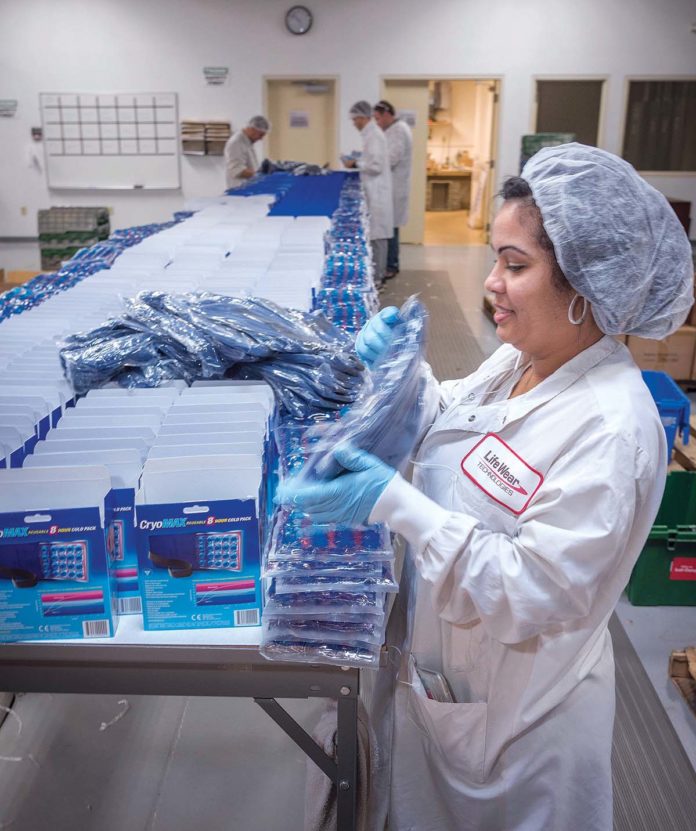 FASTEST GROWING COMPANIES | $5M-$25M | 1ST PLACE
Life Wear Technologies Inc. already has shown significant growth. But more is to come.
The maker of branded and private-label sports medicine products for markets that include the United States, Canada, Europe and the Middle East is expanding into Japan and Mexico. In addition, CEO Bradley J. Waugh expects direct sales from Life Wear's website will rank among the company's top five sales channels in the next year.
With 44 employees (20 are at corporate headquarters or the manufacturing facility in North Kingstown), Life Wear has enjoyed enormous growth between 2014, with $3.6 million in revenue, and 2016, with nearly $22.7 million.
Waugh attributes such growth to several factors: A company acquisition (Modular Thermal Technologies bought Life Wear Technologies in July 2015); organic growth through building and expanding its customer base; and purchasing TriCalm, a steroid-free, anti-itch product line for eczema, psoriasis, bug bites and winter itch – a common skin condition for older adults. Of the future, Waugh said, "Our goal is to get to $100 million [in revenue] by 2022, and we're on target to meet that goal."
In addition to constantly seeking new markets for its existing product mix, Waugh said, "What separates us from the competition [is that we're] always working on innovation; that's key."

Waugh called the company's new patent-pending product, My Splint, a revolutionary alternative to the off-the-shelf wrist braces that come in diverse sizes and have a fixed metal piece. In contrast, My Splint has a thermo-plastic frame that conforms to any individual's wrist after a brief microwave heating, and is reusable. My Splint is sold now by two retailers, Walgreens and H-E-B Pharmacy, though Waugh anticipates widespread availability soon.
Innovation comes, said Waugh, from employees and from collaborations, with the University of Rhode Island's College of Engineering on thermodynamics and new products and Lincoln Fine Ingredients, in Lincoln, on new formulations. "Our people are able to take an idea, innovate it and look at how it would impact the market and at what cost in less than three months. Some competitors take years to do so," he said.
Proud of the company's diverse workforce, Waugh is committed to employee retention. "Having an employee around for 10 years … is the value of your company, [with] that intellectual property they have," he said. "It's something you hope to never lose." Waugh, who said he relies on a team more intelligent than he is, feels he gets the best from people by empowering them.
Life Wear is also out and about, putting many miles on its mobile-outreach vehicle.
An old Winnebago has been repurposed into the CryoMAX bus that regularly visits charity runs, 5Ks, etc., and donates ice packs, heat packs, tape, etc., to runners and walkers. An employee came up with the idea, said Waugh, which has been a great way to get some brand-name recognition and talk with customers to get feedback. In its first year of operations, the CryoMAX bus has visited nearly 32 states, he said.
Although Waugh is based in Florida, he called Rhode Island "far and above the best place I've ever been associated with" in getting business help from Rhode Island's congressional delegation and governor. U.S. Rep. James R. Langevin and his office helped out on some company issues related to China, and patent and trademark infringements, as well as helping to resolve some visa and passport snafus for traveling business-people. "They may not have all the answers, but their offices are helpful in putting us in touch with the right people."
CEO (or equivalent): Bradley J. Waugh, CEO; Al Greer, president and chief operating officer
2016 Revenue: $22,652,000
2014 Revenue: $3,600,000
Revenue Growth: 529%