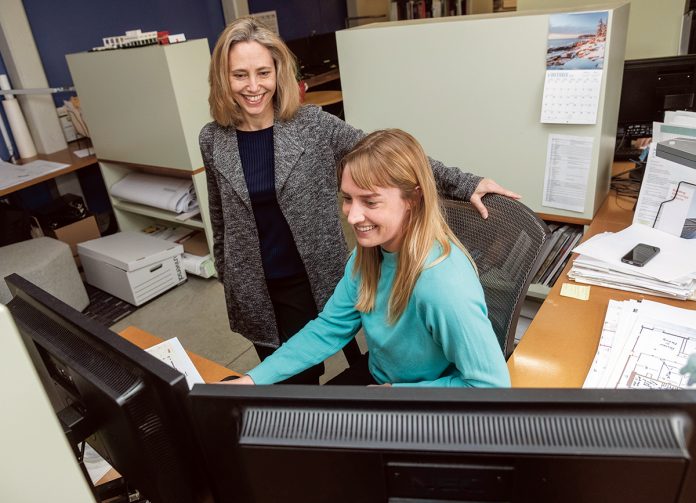 Kathy Bartels, a principal at LLB Architects, took a path to her chosen profession that included foreign-language study and public-relations work – not typically things related to the field of architecture.
But varied interests have helped shape Bartels into a well-rounded leader who gives back to younger professionals and the community at large in myriad ways.
Bartels earned a Bachelor of Arts degree with a focus on Russian language from Dartmouth College. Learning Russian wasn't so much led by definitive career goals as it was her interest in the country, she said, along with a love for the process of learning.
However, after graduation, she needed a job.
Bartels took one with the Lincoln School in Providence, where part of her role was to write the newsletter.
"I had to report on construction of a very large lower-school addition," she said, "as part of that, I'd take photos and interview the architects."
It was through that task that she became hooked on architecture.
From there, the Lincoln School was accommodating as Bartels stuck her toe in the water, taking a summer studio architecture course at Rhode Island School of Design. She eventually committed to full-time study for her master's degree in architecture, moving to Cambridge, Mass., and the Harvard University Graduate School of Design.
Her first project after graduate school – a house she designed in Westport – earned her an American Institute of Architects Rhode Island Honor Award and a place on the cover of Rhode Island Monthly.
Bartels joined LLB Architects in Pawtucket in 1996 and became partner a few years later.
She and business partner Chris Ladds bought a 30-years-vacant mill now known as the Design Exchange in Pawtucket, winning awards for the historic reuse project. Since 2011, LLB has occupied the top floor.
The firm is known for its institutional work. Projects include work at the Brown University Department of English in 2001 and at the R.I. Division of Motor Vehicles in Cranston in 2010. These kinds of clients look at life cycle costs, said Bartels, using durable materials such as brick as opposed to wood-siding, for example, with higher upfront cost but less environmental impact.
"We look for interesting projects, interesting clients," she said. Its scope takes LLB from sacred spaces such as the renovation of Church of the Blessed Sacrament in Providence, to a renovation and addition to North Scituate Public Library, to a mixed-use building renovation in Federal Hill. The work often involves historic preservation and sustainability improvement.
"We are less focused on attracting specific types of clients and more about doing interesting work. Architecture is, for us, about the process of coming up with design solutions for real-world problems," she said.
Success in finding these solutions led to milestones this year: Bartels was named president. The firm also opened an office in Worcester, Mass.
Her career came somewhat full circle when Bartels began collaborating on projects for former employer the Lincoln School, such as its just-opened $5 million STEAM Hub for Girls.
'Kathy … is able to translate abstract concepts … into bricks and mortar.'
SUZANNE FOGARTY, Lincoln School head of school
"Kathy has a great eye for details and is able to translate abstract concepts, [such as] Lincoln being a place where 'tradition meets innovation,' into bricks and mortar, as she did with the marriage of modern design on a traditional building," said Suzanne Fogarty, head of Lincoln School.
Bartels has seen more women entering architecture. About 50 percent of LLB employees are women, with 25 percent being the national average, Bartels said. She's also noticed increased industrywide support for employees' work-life balance.
Under her leadership, LLB advocates professional and personal development of younger colleagues. She enjoys watching them learn and advance.
Last fall, LLB Architects won a 2018 AIA New England Emerging Professional Friendly Firm award, the only firm in Rhode Island to be recognized in this way for its commitment to emerging team members working their way through the ranks.
LLB employees are also encouraged to serve their community, with Bartels a formidable role model.
She is a trustee of Providence's Community Prep School and chair of the school's buildings and grounds committee. LLB did a feasibility study for expansion of the land-locked school; it ultimately involved a street closure. But now the third- through eighth-graders from socio-economically diverse families have a turf play area outdoors, "the first in school history," Bartels said.
She is a director with the Pawtucket Foundation and a corporator with Coventry's Centreville Bank. She's served with the AIA, including as Rhode Island president. All these duties don't leave much time for bird watching.
A hobbyist photographer, she donates proceeds of her bird photo calendar to Born to Be Wild Nature Center in Westerly. She's assisted in some BTBW falcon releases for rehabbed fledglings who fell from the nest.
Like the young work colleagues whose growth and development Bartels supports, watching the falcons fly high is rewarding as well.