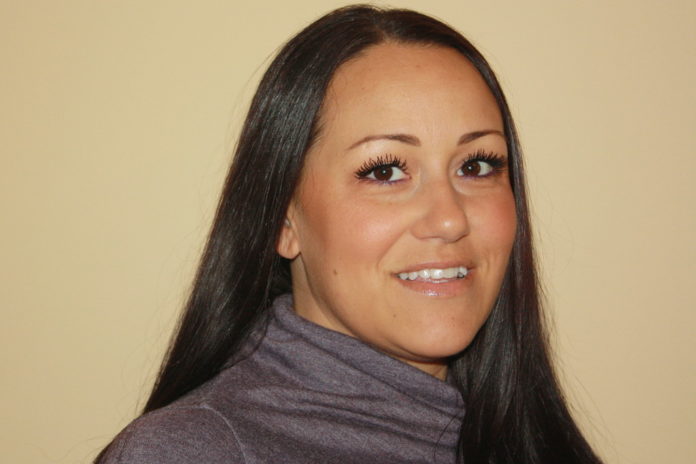 (Updated, Friday, Sept. 21, 11 p.m.)
PROVIDENCE – Jessica Waters, a science teacher at Woonsocket's Beacon Charter High School for the Arts, has been selected as the 2013 Rhode Island Teacher of the Year.
"Jessica Waters is a teacher who challenges her colleagues with provocative ideas and who is committed to bringing out the best in every one of her students," Gov. Lincoln D. Chafee, who announced the selection, said in prepared remarks. "She is a shining example for all Rhode Island educators, and she will represent our state well as she vies to become the National Teacher of the Year."
As the Rhode Island teacher of the year, Waters becomes a candidate for the 2013 National Teacher of the Year award, which will be selected in April.
"In just her fifth year of teaching, Jessica Waters has earned the respect of her fellow teachers at Beacon and around the state," David V. Abbott, Rhode Island's acting commissioner of elementary and secondary education, said in a statement.
"She is known not only for her innovative work as a science teacher but also for her dedication to the welfare of her students, in part through her role as the founder of the Beacon chapter of Students Against Destructive Decisions," added Abbott.
According to George D. Caruolo, chairman of the Board of Regents for elementary and secondary education, the students at Beacon Charter School have doubled their proficiency level in science in the past year.
At her school, Waters, who was selected from the R.I. District Teachers of the Year, prides herself on her "ability to inspire students of all backgrounds and learning abilities," according to the Department of Education release announcing the award.
Woonsocket-based Beacon is an urban charter public high school that caters to 230 students, nearly half of whom are economically disadvantaged and one-fifth are students with disabilities.
Beacon announced Friday, Sept. 21 that its New England Common Assessment Program test scores – NECAP – improved by 17 percent in 2012.
In May, Beacon's junior class sat for the science NECAP test and reached 45 percent proficiency, compared to 28 percent in 2011.
The 45 percent proficiency score is 13 percentage points above the state's 32 percent proficiency rating and represents an improvement of nearly 40 percent since Beacon's 2008 scores.
The following are Rhode Island's District Teachers of the Year for 2013:
Barrington, Glen Simmons
Bristol-Warren, Kelly Brum
Burrillville, Kristi Craig
Chariho, James Bailey
Coventry, Tara D'Aleno
Cumberland, Christopher Scott
East Greenwich, Patricia M. Page
East Providence, Nicole Monte
Exeter-West Greenwich, Anne E. Padula
Foster-Glocester, Jennifer Paolantonio
Glocester, Katherine Simmons
Jamestown, Nicholas Alfred
Johnston, Jennifer F. Sousa
Lincoln, David Jayson Schofield
Little Compton, Jason Ford
Narragansett, Adam Reis
New Shoreham, John Tarbox
Newport, Coleen Hermes
North Kingstown, Toni-Annette Silveira
North Providence, Shauna Pelletier
North Smithfield, Regina McAdam
Providence, Lisa Rose Bucci
Scituate, Donna Pennacchia
Smithfield, Adelio Cabral
South Kingstown, Claire Schwarzbach
Tiverton, Virginia E. Curtis
Warwick, Peter Kiley
West Warwick, Greg Gonsalves
Westerly, E. Deborah Wright
Woonsocket, Grace Lang
2013 District Teachers of the Year for Charter Schools:
Beacon Charter, Peter D. Boland
Blackstone Valley Prep, Marielle Emet
Highlander Charter School, Patricia L. Houlik
International Charter School, Connie Walinski
Kingston Hill Academy, Jennifer Geaber
Trinity Academy for the Performing Arts, Jennifer Patten
Segue Institute for Learning, Kenneth Kard