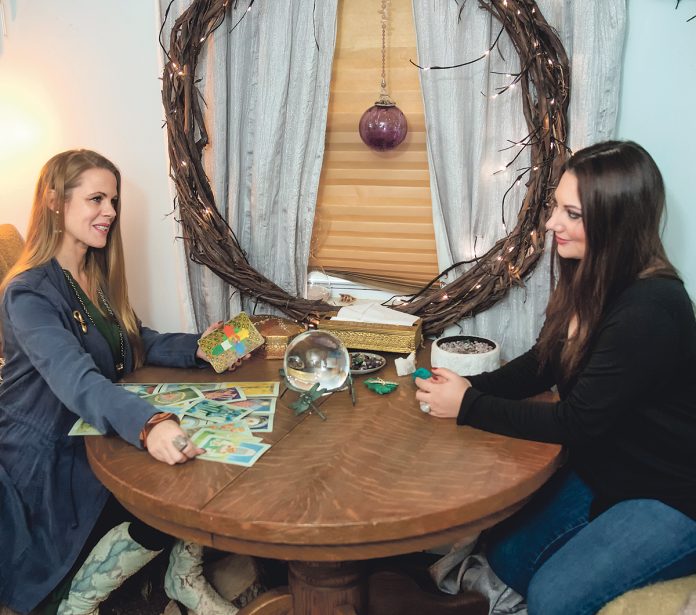 Just for the record, there is such a thing as witchcraft in Rhode Island, says Roxanne Jasparro.
Not to worry, though. She says she's a good witch; the kind who likes to help people. She was thinking of the 1960s fantasy sitcom "Bewitched" when she named her shop, Bewitched of Scituate.
She opened about two years ago, offering pyschic readings, Reiki healing techniques and "spiritual" guidance. She channels her artistic talents for the other side of her shop, where she sells pointy witch hats, "healing" stones, specially made herbals and oils, and other witch-like items. She makes virtually everything by hand.
The 35-year-old is the wife of a Johnston firefighter and the mother of three kids. That may seem ordinary. But she matter-of-factly says she has some extraordinary abilities that she started noticing as a girl and which were understood by her grandmother Mary, who she called "grams the witch."
"She told me I was a witch and taught me to believe in myself and the magic within me and the universe," Jasparro said. "I was always confident as a young girl."
Her mother did not have the gift of witch, as it apparently skipped a generation. What is the gift? For Jasparro, it means having the ability to see the future or see into someone's past, as well as the ability to communicate with the dead and with animals. She also practices Reiki. It's a healing technique based on the belief the therapist can channel energy into the patient by touch to activate a natural healing process and restore physical and emotional well-being.
When encountering skeptics, she takes it in stride. After all, she explained, we all are entitled to our beliefs: "I just say to them, 'OK, but this is what I'm hearing and seeing.' " When asked if she's ever put a hex on someone, she plainly said, "It's not what I practice."
How do you put a price on the mystical? Her rates are $75 per half-hour for readings and $45 per half-hour for Reiki treatments. Those are by appointment only. She also teaches classes on such topics, ranging from $25 to $50 per person. Much of her merchandise sells for about $25 to $30. But she has stuff priced down to $2 and up to more than $100 for some custom-made hats.
Jasparro mostly gets customers from word-of-mouth. Sometimes they become steady clients. And she's generally willing to lend a helping hand to townspeople around Scituate should they want to make use of her unique abilities. Sometimes she'll travel for readings and such, but she also can do it by phone.
Being a witch can be complicated. She takes her kids to a Catholic church but thinks of herself mainly as pagan. In her mind, Christianity and paganism aren't mutually exclusive. She speaks of paganism as a kind of connection to the natural world – both of things seen and unseen – and Reiki as a branch of holistic healing.
Life wasn't always Tarot-card readings and seances. For years, Jasparro worked in retail, and she started college with the intent of becoming a lawyer but eventually realized it wasn't for her. She got the idea for her shop on a trip to Salem, Mass. – the quintessential "witch city."
"I went from selling in Salem, to doing readings and selling my items at home parties, to now having my own shop," she said.
OWNER: Roxanne Jasparro
TYPE OF BUSINESS: Psychic readings, Reiki treatments, retail
LOCATION: 180 Danielson Pike, Scituate
EMPLOYEES: One
YEAR ESTABLISHED: 2016
ANNUAL SALES: $60,000
Scott Blake is a PBN staff writer. Email him at Blake@PBN.com.