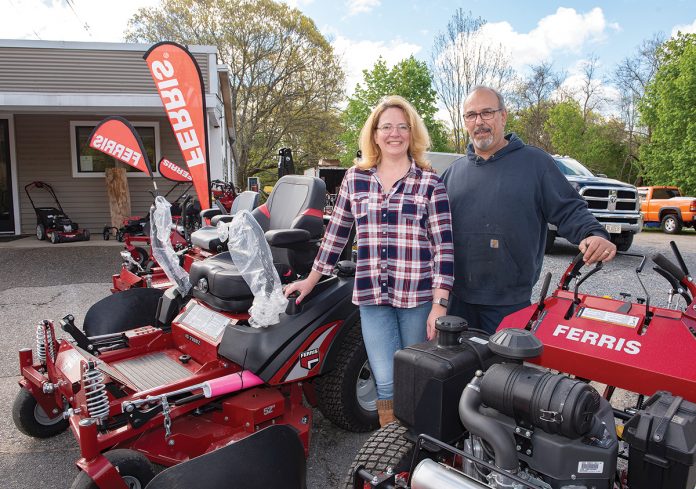 Barbra and Michael Perry had already built a solid customer base in the Taunton area by running their mobile small-engine-repair business out of their home, but this year, the couple decided to branch out into sales.
The move meant opening a new 1,000-square-foot Blades Small Engine Repair shop and showroom in the city to sell lawn mowers, snowblowers and other handheld lawn and landscaping equipment. Its new stock includes mowers geared toward homeowners and heavy-duty landscaping tools for professionals.
The couple says their business had evolved to the point where it was time to get into sales, which also allows their mechanics to order parts for repairs more easily.
"We have been really busy. We opened in late March, and it's been straight out ever since," Barbra Perry said. "We have products in every price range."
Part of that influx is due to timing, thanks to the recent closure of several local shops offering similar merchandise, but the Perrys also credit the 700 customers they were working with before the shop opened.
Now, they estimate about 60% of their business is done at the shop.
Still, the company's mobile service, which covers Taunton and surrounding towns in Bristol County, Mass., remains busy, especially as lawn-mowing season reaches its peak. Michael Perry and two other mechanics travel to customers' homes to fix mowers, tractors and landscaping equipment, sharpen blades and do tuneups or oil changes. In the winter, they'll go out to repair snowblowers, generators and other snow-removal machinery. The business will even fix tillers, chain saws and log splitters at customers' homes or work sites.
Michael Perry has served as the Taunton Fire Department's mechanic for nearly 20 years. He has been working in the trade since he was a teenager, when his family owned Brownie's Lawnmower Shop in Taunton.
Perry's family sold their business in the 1980s, but it remained open under different ownership until 2016. After its closure, he and his wife decided to launch their own version of a regional engine-repair company.
"When we started, we were just working out of our house, but we came up with the idea of the mobile service, and people loved it," said Barbra Perry, who handles the administrative side of the company.
Many customers who'd been going to Michael Perry's old family business made the switch, and the Perrys got the word out about their new service via local media. The company's visibility also got a boost from the colorful trailer mechanics drive to jobs.
Once calls for repairs started to roll in, word-of-mouth advertising brought in more business.
By staying open all day Saturday and half the day on Sunday, when people are most likely to be mowing their lawns, the company keeps ahead of the competition, Barbra Perry added.
OWNERS: Barbra Perry, Michael Perry
TYPE OF BUSINESS: Small-engine repair and sales
LOCATION: 1 Lawton St., Taunton
EMPLOYEES: Two
YEAR ESTABLISHED: 2016
ANNUAL SALES: WND
Elizabeth Graham is a PBN staff writer. Contact her at Graham@PBN.com.