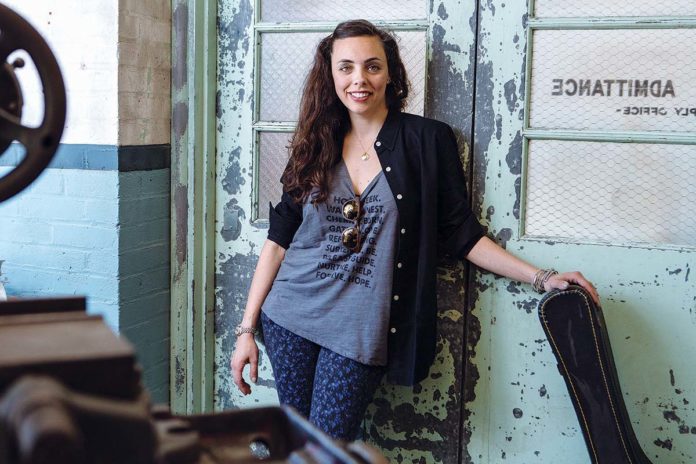 Hannah Garrison has a business that involves calling up world-famous musicians and asking them to send her their trash. She wants their musical waste, to be specific.
Wear Your Music LLC, the company she incorporated in Rhode Island six years ago, takes used guitar strings from famous artists and recycles them into bracelets. The completed jewelry is sold online, and the profits sent to the charity of the musician's choice.
In a separate line, which she sells for company profit, Garrison has created one-size-fits-all bracelets sold online, and more recently in 80 retail stores. The site also has key chains, rings and other items.
Wear Your Music had about $400,000 in gross sales for the combined merchandise last year, she said.
It has worked well, revolving around a simple phone pitch. "I basically say I want your garbage, and to give the money to any charity you want," she said, of her approach. "We make it really easy for them."
Typically, her first contact is the musician's manager. Sometimes she speaks directly with the performer. At other times, she is directed to their guitar technician, the person who usually tunes and prepares the guitars, and handles the wasted strings.
Guitar strings, the material for the jewelry line, frequently break or become worn out with play and must be replaced. Instead of tossing the strings, the artists send the bundles of wire to Providence.
The business started with sales at farmers markets and other venues, when she had a business partner. Initially, it was his contacts in the music industry that were the first to commit.
The first musician to agree was Warren Haynes, a guitarist with the Allman Brothers Band. Dave Matthews was the most significant "get" in recent years, given his popularity with consumers and the difficulty she had reaching him.
A visit to the Wear Your Music website reveals dozens of performers who regularly send their strings, some of them rock, blues or country legends.
Eric Clapton, Carlos Santana, Willie Nelson, Bonnie Raitt and the full Metallica lineup are among the names.
The strings they send are a mixed metal, not the easiest medium for a jeweler.
"I hate working with it," Garrison said. "They're horrible. They're sharp. They poke your eye out." Everyone in the office must wear eye protection when handling strings.
The finished bracelets, by comparison, are elegant and sleek. The bracelets are sold for varying prices, depending on how much string is used, whether the bracelet has an artist's signature, and the demand for the finished product.
The signed Clapton bracelet, for example, is sold for $500. The charity he's chosen is the addiction treatment center Crossroads Antigua.
OWNER: Hannah Garrison
TYPE OF BUSINESS: Jewelry and music merchandise
LOCATION: 55 Cromwell St., Providence
EMPLOYEES: 2
YEAR ESTABLISHED: 2011
ANNUAL SALES: $400,000 gross