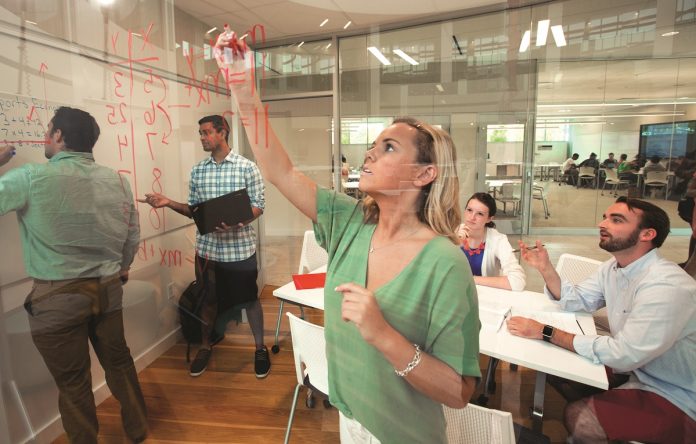 SMITHFIELD, RI – Bryant University's academic excellence and transformative education excel in a number of recently released national rankings that highlight teaching excellence and outcomes.
In addition to an impressive top-10 ranking in the U.S. News & World Report's 2019 annual college rankings "Regional Universities North" category of 193 institutions released today, Bryant stands out in several other important categories. The University's dedication to academic excellence is reflected in the No. 7 ranking of schools with "A Strong Commitment to Undergraduate Teaching." Bryant is also ranked one of the "Best Colleges for Veterans" at No. 3 in the region, and the University's transformative education is recognized in a No. 3 ranking as an A+ school for undergraduate students.
Bryant's strong showing in these rankings, including the 14 point rise in the U.S. News & World Report rankings over the last 15 years, is the result of visionary leadership, dedicated and accomplished faculty, record student applications and enrollments, the philanthropic support of successful alumni around the world, and inspired students who embrace the opportunities that a Bryant education provides.
"I am proud that Bryant's upward trajectory in national rankings based on academic excellence recognizes the innovative education delivered by our exceptional faculty in both the College of Business and the College of Arts and Sciences," said University President Ronald K. Machtley."
"The entire Bryant community works hard to prepare our students for success, and our steady rise in these rankings reflects validation by our peers and students around the country."
Additional rankings recognizing programs, student transformation and outcomes, and return on investment:
In Money's "Best Value Colleges Rankings," released in August 2018. Bryant is featured as one of the nation's top 50 "Most Transformative Colleges" and is No. 15 for "earnings premium of graduates over peers. Money also ranked Bryant a "Best Value" for educational quality.
The Wall Street Journal 2019 College Rankings placed Bryant at No. 103 for student outcomes, and No.183 overall out of 968 institutions nationwide.
In the 2018 USA Today/College Factual ranking, Bryant ranks in the top 10 percent of all schools in the U.S. and is ranked No. 3 in the nation in several areas: Business, Management, Marketing, International Business, and Marketing. Accounting is ranked No. 4, and Applied Mathematics, Entrepreneurial Studies and Management are No. 6.
Bryant's overall ranking of 120 (out of 1,382 schools) is a nine-point increase over the previous year, and a jump of 12 spots since 2014 when USA Today and College Factual first partnered to provide analytics, insights, and rankings to help students find their "best-fit" education. Bryant stands out as No. 2 in Rhode Island, No. 27 in New England, and is a "Best College for the Money" at all levels.
The return on investment for a Bryant education also ranks No. 5 on the Payscale.com "Best Value Business School" list. In the 2017-2018 Payscale College Salary Report Bryant is among in the top 10% in the country (156 out of 1,531) for the highest alumni salaries overall, with the average early career salary for all Bryant alumni at $57,300 and $109,100 at mid-career.
Princeton Review has once again included Bryant on its list of the Top 384 Schools in the United States, 2019 Edition and the Top 229 Schools in the Northeast. Bryant is also featured in the Princeton Review Guide to 375 Green Colleges.
Reflecting Bryant's commitment to global education, in its most recent study Open Doors (Institute for International Education) ranked Bryant University No. 7 for study abroad participation among master's universities and colleges nationally.
To learn more about Bryant University's academic programs, distinguished faculty, and students, visit www.Bryant.edu.
For 155 years, Bryant University has been at the forefront of delivering an exceptional education that anticipates the future and prepares students to be innovative leaders of character in a changing world. Bryant delivers an innovative and uniquely integrated business and liberal arts education that inspires students to excel. With approximately 3,700 graduate and undergraduate students from 38 states and 53 countries, Bryant is recognized as a leader in international education and regularly receives top rankings from U.S. News and World Report, Money, Bloomberg Businessweek, Wall Street Journal, and Barron's. Visit www.Bryant.edu.
https://news.bryant.edu/bryant-garners-top-rankings-exceptional-teaching-student-success-and-outcomes