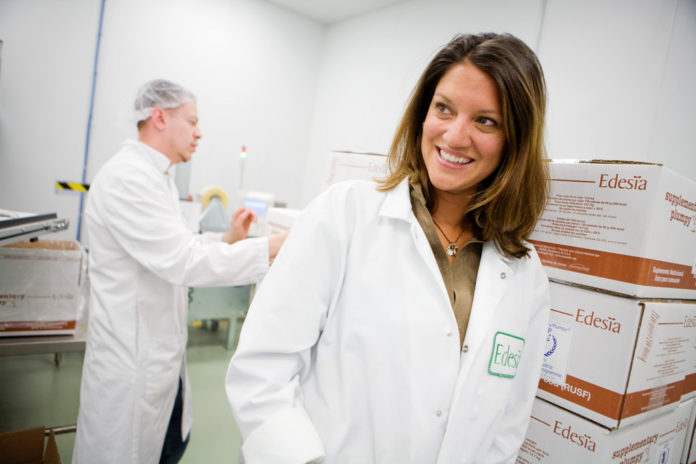 SMITHFIELD – Edesia founder and executive director Navyn Salem will receive the 2012 New England Businesswoman of the Year award later this week at Bryant University's annual Women's Summit.
The award recognizes excellence in a female founder, president or CEO of a New England-based multimillion-dollar business. The award recipient – or her institution – must also be engaged in service projects that improve the lives of others.
Salem and her company certainly qualify for the award requirements. She founded the Providence-based ready-to-use food producer in 2007 to treat and prevent malnutrition in the developing world.
Salem opened the doors to Edesia's 15,000-square-foot Providence production facility in early 2010 and was named one of Providence Business News' Business Women "Women to Watch" in 2010.
The facility produces four peanut-based, ready-to-use food pastes – Plumpy'nut, Supplementary'Plumpy, Plumpy'Doz and Nuributter – which have been distributed in more than 18 countries to nearly half a million children and used in emergencies such as the 2010 earthquake in Haiti.
The peanut pastes are combined with milk powder, vegetable oil and sugar and fortified with essential minerals. They have a two-year shelf life and do not require refrigeration or hydration. Edesia is currently the only licensed facility in the United States to manufacture the ready-to-use food products developed by the French company Nutriset.
Salem's business model includes collaboration and partnerships with aide organizations such as the World Food Programme, UNICEF, Partners in Health, Save the Children, and the Clinton Global Initiative.
Edesia has been an important local force as well as an international one. The Providence plant opened at a time when unemployment was spiking in the Ocean State.
Salem told PBN that she chose to locate the manufacturing facility in Providence – turning down other real estate opportunities in Massachusetts – because "it was important to do something to help provide jobs here in Rhode Island, given the high unemployment."