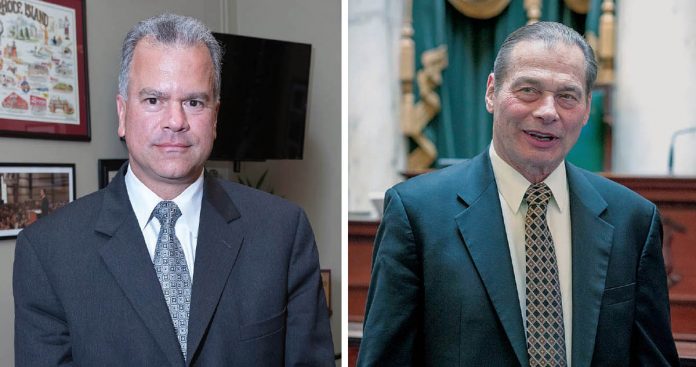 PROVIDENCE – Business and political leaders gathered on Wednesday to consider new proposals before the General Assembly this year, including mobile sports betting, legalizing recreational marijuana and making pre-K enrollment universal across the state.
The annual Greater Providence Chamber of Commerce legislative luncheon attracted several hundred people to the R.I. Convention Center. Seventy legislators attended.
In opening remarks, John Taylor, executive chairman of Twin River Worldwide Holdings Inc. addressed the advent of sports betting and challenges that lie ahead for the state's two casinos.
Rhode Island remains the only state in New England that has legalized sports gambling, he noted. In the coming months, both the Twin River Tiverton and Lincoln casinos will have 15 self-service kiosks installed to facilitate in-person betting. Mobile betting, pending General Assembly approval, will allow people to place bets within the state. And mobile bets placed within the casino buildings themselves will be available shortly, he said.
In corporate news, he said, Twin River is pursuing the purchase of Dover Downs Casino in Delaware, a transaction that will make Twin River publicly traded on the New York Stock Exchange.
"While the complexion of the company may change a bit, we intend to keep Rhode Island as our company headquarters," he said.
Challenges lie ahead in the opening of the Encore Boston Harbor resort casino in Everett, Mass., just outside Boston. The resort casino will be a competitor for Rhode Island-based casinos and is scheduled to open in June, according to its website.
"It appears to epitomize everything we all know about high-end Las Vegas-style casinos, with a 27-story hotel tower, and more than 670 rooms. It represents a $2.5 billion investment not 60 miles from our doorstep," Taylor said.
Rhode Island legislators, including House Speaker Nicholas A. Mattiello and Senate President Dominick J. Ruggerio, offered their perspectives on the state budget proposal introduced by Gov. Gina M. Raimondo, as well as other initiatives, including a lessening this year of the planned six-year car-tax phaseout.
Mattiello said he was concerned because people were promised they would have this tax reduced. It is the tax he hears most often about from citizens, he told the audience of business leaders.
"It's oppressive. It's regressive," he said. "There are so many reasons to eliminate the car tax."
Of new initiatives in the governor's budget, he said the House Finance Committee would analyze all the requests but added he's "cautious" about new spending.
The education proposals, including universal pre-K, will come at a cost.
"In the out years, we have large deficits as far as the eye can see. You have to consider any new programming versus its affordability. New programming may be problematic this year," Mattiello said.
Ruggerio, asked about sports betting, said the overwhelming popularity of the new feature has led to lines at the casino terminals. The addition of mobile betting should help, he said. It would allow people to place bets on an app as long as they are within the state boundaries.
"By having it available for those individuals who are looking to be involved with sports wagering, it will be more convenient," Ruggerio said.
The Senate later Wednesday approved the mobile sports betting legislation, which will now move to the House.
Asked if he had placed a bet on the Super Bowl, Ruggerio responded: "Yes I did. I did very well."
Mary MacDonald is a staff writer for the PBN. Contact her at macdonald@pbn.com.