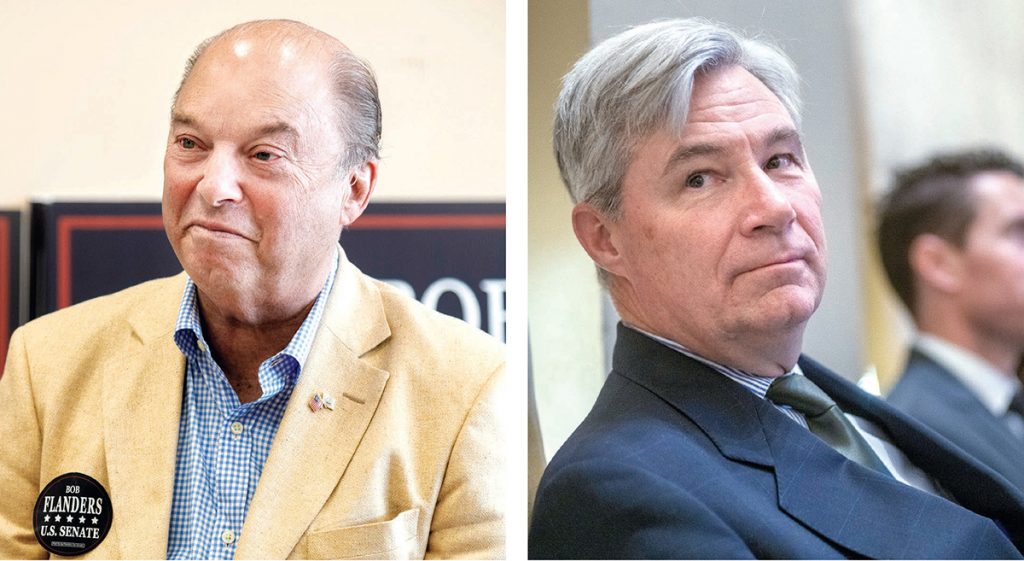 A onetime garbageman who became an attorney and member of Rhode Island's highest court, Robert G. Flanders Jr. has called himself the "embodiment of the American dream."
The 69-year-old East Greenwich resident served on the state Supreme Court from 1996 to 2004, before returning to private practice.
In 2011 he was named by then-Gov. Lincoln D. Chafee to serve as receiver for then-bankrupt Central Falls. He held the post for more than a year and helped develop a plan that eventually allowed the city to transition out of bankruptcy.
Flanders says that experience played a role in his decision to challenge Sen. Sheldon Whitehouse, a two-term incumbent Democrat.
He wants to implement a "low-tax, low-regulation" environment independent of tax incentives and opposes the "heavy thumb of government favoring some [industries] but not others."
Though a lifelong Republican, Flanders said he would operate as an "independent-minded senator" if elected. And he'd work with President Donald Trump if it benefited Rhode Island.
"If you don't like somebody, it's a lot harder to accept the policies they're promoting," he said. However, citing record-low unemployment, he added, "If you see that the policies are working … sometimes you have to hold your nose."
---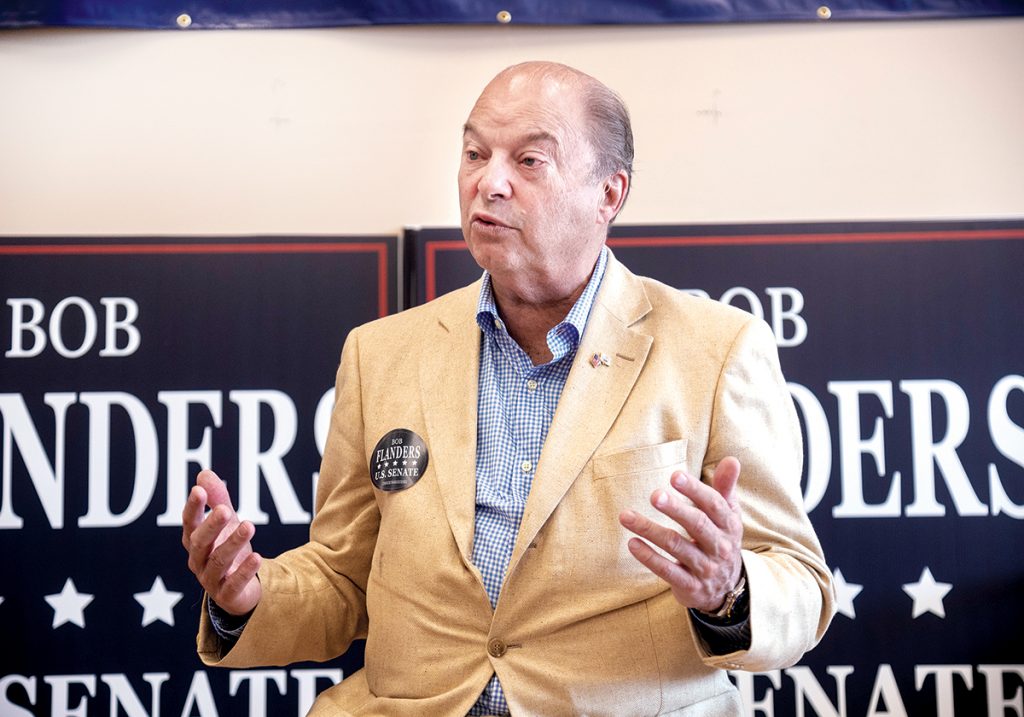 Why are you running to represent Rhode Island in the U.S. Senate? Like many Rhode Islanders, I'm frustrated with the hyperpartisanship most of us see in Washington, D.C., where politicians can't seem to get anything done and they're always finger-pointing and fighting with each other. I'm not an ideologue, I'm not a lifelong politician. I just want to do what's right by average Rhode Islanders.
Your opponent, Sheldon Whitehouse, has been in the Senate for 12 years. Why do you think it's time he be replaced? Whitehouse is out of touch with the concerns of most people. He's from a very wealthy and privileged background, unlike myself who grew up as the oldest of seven in a family that lived paycheck to paycheck. I've done manual-labor jobs to put myself through school on a financial aid scholarship. I know what it's like to struggle.
Do you regret the prediction you made in 2012, while serving as the Central Falls receiver, about expecting Providence to seek bankruptcy-court protection? The mayor at the time, Angel Taveras, was pretty upset and stopped consulting with your law firm as a result. Providence, like Central Falls, was in dire financial straits and is still struggling with enormous unfunded pension liabilities, unfunded health care and post-employment benefit liabilities. This is a cloud hanging over Providence and I think Providence could have benefited, as Central Falls has, from a kind of financial restructuring that occurred in that city.
Unfortunately, a series of mayors has done little more than kick the can down the road and leave the problem in place for future administrations. Unfortunately, the state … has been equally unhelpful in trying to resolve that problem.
You're talking about delayed action on behalf of elected officials. Did your involvement therein play any role in your decision to seek elected office? It certainly was influential. … It demonstrated that there's problem-solving skills that can be applied in very difficult, if not impossible, situations and yield results that can get everyone to a better place. I hope to take some of those same problem-solving skills that we used in Central Falls to Washington.
How do you plan to help increase jobs in Rhode Island and promote the state as a welcoming place for companies looking to relocate? Do you see that as part of a U.S. senator's role? U.S. senators should definitely work to help job creators thrive in the state that they represent, particularly in a place [such as] Rhode Island, where small businesses are so important. I want to help our fishing industry, defense contractors, high-tech industries, our bio industries.
I want to do everything I can, at the federal level, to foster policies that will cause entrepreneurs to be successful, want to hire people, expand their businesses and so, to me, that's a critical role for a senator to play.
Which other local industries do you feel should be prioritized and what types of businesses should be recruited for relocation? One of our strengths is that we have great universities and so I'd like to see more of the businesses that come from those places. The combination of engineering and science-based industries. We have wonderful computer- and health care-based industries and I'd love to see those industries thrive.
I'm always looking to see the partnerships between industry and academic areas. … I'd like to help and do whatever I can, from a policy perspective, to encourage federal grants and to innovate and encourage businesses and universities to explore new ways of combining.
You're talking about attracting federal educational research grants. What's your view on creating federal tax incentives to support specific industries? In Rhode Island, particular beneficiaries might include offshore wind, but should the federal government step in where states are not operating? I'm leery. … I don't agree with the idea of supporting specific industries. I'd rather have across-the-board incentives for innovation and new businesses, rather than picking winners and losers. I don't think that's the role of government.
I'd rather let the market determine which industries and businesses will expand.
Would you actively work to end the incentives arms race that pits state against state when attracting businesses? I don't agree with the give-away programs that Rhode Island and other states are engaged in. I'd rather have a low-tax, low-regulation environment for all.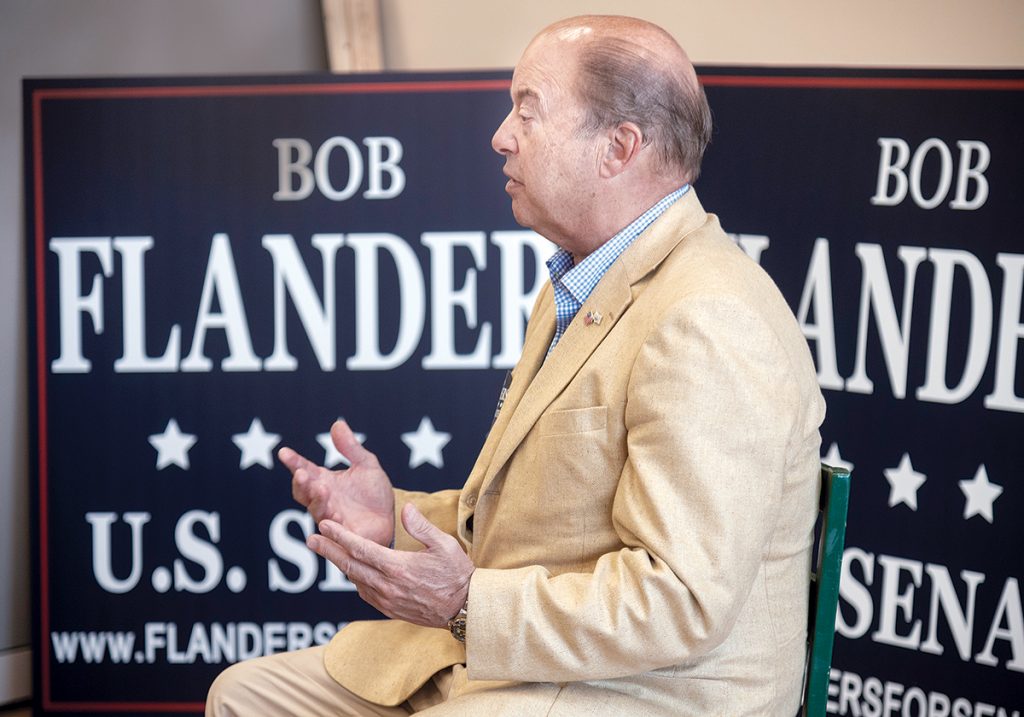 Is it correct to say, while the current incentives program is a state policy, you would advocate for the opposite of the current policy? Yes.
In a recent TV ad, you attacked Whitehouse as a "one-policy candidate" focused solely on climate change. If elected, how will you protect Rhode Island's coastline, homes and maritime economy from the continued impact of climate change? I'm a big believer in infrastructure; we need to beef up our coastlines, our waterways to deal with storms. I'm very supportive of dealing with those issues and making insurance available for people who live in areas that are subject to flooding or other adverse environmental conditions.
How should the federal government fund the flood-insurance program so it's not beneficial to a few while funded by the many? You don't want flood insurance to be so available as to encourage people to build in these areas or keep rebuilding after their homes are destroyed. We need policies that don't result in subsidizing wealthier folks who take the risk to have a coastal home. … There ought to be limits on the extent to which someone should be allowed to rebuild in areas that are traditionally subject to flooding.
You demanded that Whitehouse call for R.I. House Speaker Nicholas A. Mattiello to resign after his violation of a PAC spending limit. Why do you feel Mattiello's actions were so egregious? These are laws that need to be enforced. Otherwise, it's too easy to get around limits by claiming you weren't aware. If you ignore the violations, that encourages others to do the same thing. We have to make the system work as honestly and as transparently as possible.
When asked if he felt such action was appropriate, Whitehouse said it isn't a U.S. senator's place to become involved with state-level politics. Do you agree? Since I'm a Rhode Islander, I want to feel free to comment on local issues – even if it's a situation primarily, or even exclusively, a state issue to [resolve].
Why do you feel Judge Brett Kavanaugh is qualified to serve as a U.S. Supreme Court justice? I don't agree with the attempt to politicize every appointment to the Supreme Court. … I was particularly upset to see how badly Whitehouse treated Kavanaugh. It was, frankly, disgraceful to see the way he cut him off, wouldn't let him answer questions and treated him like a criminal.
Based on the hearings, I would vote to confirm Kavanaugh unless something else were to come out that I haven't heard.
Kavanaugh is now facing an allegation of sexual assault that he has denied. Should an accusation of this type by itself be disqualifying for the U.S. Supreme Court? A mere accusation should never be enough to disqualify a nominee to the Supreme Court. It has to be proven. Otherwise, political adversaries could [use it to] torpedo nominees they ­oppose.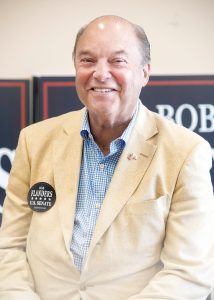 Do you feel like there is a trend right now that presidents are picking judges who will sit on the Supreme Court, for a life term, and fall in line with the beliefs of the nominating party? Every president tries to appoint judges who will share their philosophy. But, remember, the history of the Supreme Court is littered with judges who, once they got on the court, have disappointed the presidents who appointed them through the independence that lifetime selection confers.
Now halfway through his first term, what do you think of the job President Donald Trump has done leading the country? Basically, I give him mixed grades. Policywise, the [federal tax overhaul], the reduction of regulation, beefing up the military are things I've supported.
On the other hand, I don't agree with a lot of his tweeting, attacks on law enforcement, intelligence agencies, [and] the stand he took with [Russian President Vladimir] Putin was disappointing.
You have to divorce personality from policy. His personality and style, and the rampant narcissism he displays, are disappointing and I wish could be different.
I will have to call balls and strikes on President Trump. When he does things that are right for Rhode Island, I'm going to be at his side. If he doesn't, I'm going to stand up to him.
Emily Gowdey-Backus is a staff writer for PBN. You can follow her on Twitter @FlashGowdey or contact her via email, Gowdey-backus@PBN.com.