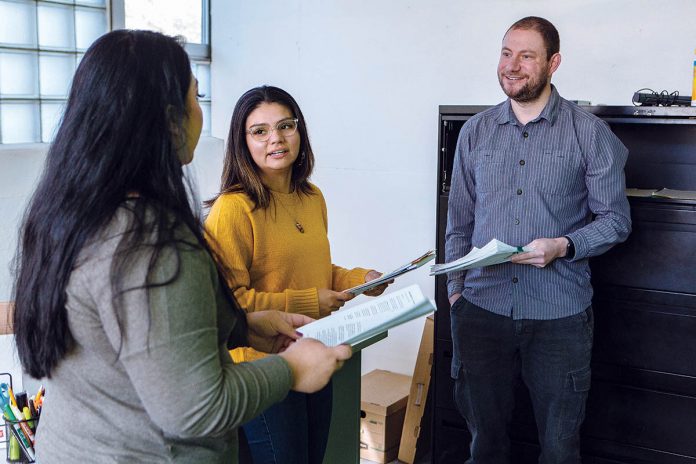 Business Excellence Awards 2018
Overall excellence at a small company: Capital Good Fund
---
With nearly one-half of the U.S. population unable to tap $400 in savings for an emergency, Capital Good Fund, a Providence-based nonprofit, serves a vital need, offering modest personal loans to people who can't get help from a bank.
Such loans – $300 to $25,000 – to individuals who can't get bank loans save people of meager means from disastrous ­decisions.
Operating in Rhode Island, Massachusetts, Delaware and Florida – with Illinois on the near horizon – Capital Good Fund serves clients who otherwise resort to getting loans from payday lenders, pawnshops, check cashers, etc., which collectively comprise a $141 billion predatory financial industry, says Andy Posner, founder and CEO. Capital Good Fund's loans enable borrowers to build credit, save money, invest in their futures and avoid being caught in predatory lenders' debt traps.
"Nationally, we're the only nonprofit offering these loans at equitable interest rates at this scale, though some credit unions, [such as] Navigant Credit Union, offer similar small-dollar loans in Rhode Island," said Posner. "Although the suggested interest rate cap [on such loans] is 36 percent, our highest rate is 24 percent APR [with some loans having lower rates]. Payday lenders typically charge around 300 percent APR," or annual percentage rate.
Capital Good Fund reports the borrowers' loan repayments to credit agencies, which raises a borrower's FICO score by 75 points on average, says Wally Okby, vice president, investor relations. Its Financial & Health Coaching program offers borrowers valuable advice and guidance on banking, budgeting, credit, debt, savings and health.
"We're viewed as the lender of last resort, but … we become the lender of first choice, as they graduate out of this space they're in," Posner said.
The U.S. Treasury, the Rhode Island Foundation and other corporate foundations have donated funds for Capital Good Fund's operating expenses, something that is standard with nonprofits.
But it also borrows funds to lend out to customers and repays them with interest. Several banks and credit unions, including Bank Newport, Centreville Bank, Navigant and Greenwood credit unions, as well as foundations and individuals, lend the company money, says Okby, who recently joined the nonprofit after working as a banker.
Capital Good Fund issues more than 100 loans a month, says Posner, who launched the nonprofit after witnessing how many people were impacted by the 2008 financial crisis. Then a Brown University graduate student, Posner was also empowered to act after reading works by Muhammad Yunus, a Nobel Peace Prize awardee for pioneering the concepts of microcredit and microfinance.
"These are not to [pay off] a credit card … [but] to become a citizen, buy a car to get to work or keep your job, move into a new apartment or avoid eviction," Posner said. Calling the loans, which have a 96 percent repayment rate, "transformational," Posner added, "Filling a massive market need is very satisfying."
The 9-year-old company is growing exponentially. In Rhode Island alone, it financed 99 loans for $286,000 in 2016, 353 loans for $590,000 in 2017 and 400 loans for $620,000 through Sept. 30. Company­wide through Sept. 30, Capital Good Fund has financed more than 3,000 small-dollar personal loans totaling $5.6 million and graduated more than 1,450 families from its coaching program.
In 2017, the organization tripled its 2016 loan volume of $635,000 to $2.1 million, with loan volume for 2018 anticipated to grow by another 50 percent.
Capital Good Fund is working with a consultant on a comprehensive customer-acquisition strategy, an essential component of the organization's forecast of operational self-sufficiency by 2023's end.
"We're excited about this self-sufficiency plan. We're closer to being less dependent on philanthropic donations, which can be whimsical,"said Posner.