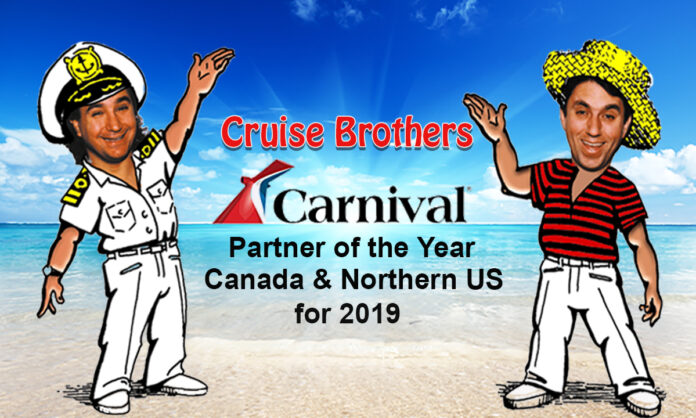 Warwick,RI – November 19, 2019 – Carnival Cruise Line has announced the recipients of its inaugural 2020 regional Partner of the Year Awards, recognizing the achievements of its top travel partners. Cruise Brothers, with offices in Warwick, Rhode Island and Palm Beach Gardens, Florida has been awarded the Partner of the Year Award for Canada and Northern US for 2019. Recipients were chosen based on their business performance, dedication to Carnival and their expertise in championing the Carnival brand.
"We are pleased to recognize Cruise Brothers as our Partner of the Year for Canada and the Northern US for 2019. Their extensive network of cruise selling agents are a key factor in their outstanding growth, however it's our strong partnership with their executive team that we're most proud of. We look forward to further strengthening this relationship in the future and we wish them continued success." Justin French – Regional VP, Canada and the Northern US.
According to Joseph Giampietro, CFO of Cruise Brothers, "We are honored to receive this award. It is a tribute to our talented and dedicated team members! Their commitment to finding the very best travel experience for our clients combined with the outstanding value offered by Carnival makes it an easy choice when planning a cruise vacation."
About Cruise Brothers:
Cruise Brothers is one of the largest family-owned cruise agencies in the country. Cruise Brothers has been in business since 1972 with offices in Warwick, Rhode Island and Palm Beach Gardens, Florida. Year after year, Cruise Brothers consistently ranks among the top producers with all the major cruise lines, allowing Cruise Brothers to offer the best value in cruise vacations to their clients. For more information, please call 1-800-827-7779 or visit www.CruiseBrothers.com.
About Carnival Cruise Line:
Carnival Cruise Line, part of Carnival Corporation & plc (NYSE/LSE: CCL; NYSE: CUK), is "The World's Most Popular Cruise Line©" with 26 ships operating three- to 24-day voyages to The Bahamas, Caribbean, Mexican Riviera, Alaska, Hawaii, Canada, New England, Bermuda, Cuba, Europe, Australia, New Zealand, the Pacific Islands and Southeast Asia. The line currently has three new ships scheduled for delivery – Carnival Panorama™ in 2019, Mardi Gras in 2020 and an as-yet-unnamed ship in 2022.