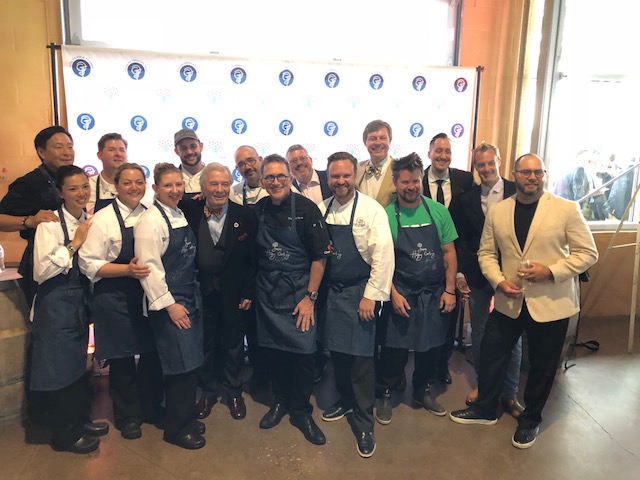 NEWPORT – "Jacques Pepin is out on the patio!" said an excited guest to her companion as two hundred foodies enjoyed being in the company of a galaxy of culinary stars who cooked and mingled on Thursday night at Newport Vineyards.
Pepin, the iconic celebrity chef, author and artist was one of nearly two dozen chefs and food personalities headlining Savor, a gala fundraiser in celebration of the twentieth anniversary of the Rhode Island Food Bank's Community Kitchen culinary job training program.
A multi-course meal was served to a capacity crowd of over two hundred in the Middletown winery's banquet space. It was prepared by a number of celebrity chefs including Ming Tsai and Rick Moonen alongside well-known chefs from Rhode Island and the region including Matthew MacCartney, Champe Spiedel, Jamie Schick and James Wayman.
In addition, chefs hosted at table and during the evening's program including Sara Moulton, Rick Bayless, Derek Wagner, Matthew MacCartney, Claudine Pepin and her husband Rollie Wesen who founded the Jacques Pepin Foundation which recently began collaborating with the Community Kitchen.
The Community Kitchen is a full-time 14-week program that prepares participants for entry-level jobs in the restaurant and food service industry. Food Bank CEO Andrew Schiff said, "Our program trains people sometimes with a rocky job history who are ready to begin at entry level in the food industry and work their way up."
In a before-dinner interview,  Jacques Pepin called the program, "an extraordinary way to do more than give back." Wesen explained, "The Community Kitchen takes people who are on the edge of hope…and gives them an opportunity to learn to cook and at the same time learn some life skills."
Moulton added, "This is truly a 'teach someone to fish' program." Students are trained in basic cooking skills as well as various aspects of food service operations, kitchen safety and first aid.  Practical on-the-job experiential training is also provided. The program has a ninety percent placement rate.
Bruce Newbury is a PBN contributing writer.