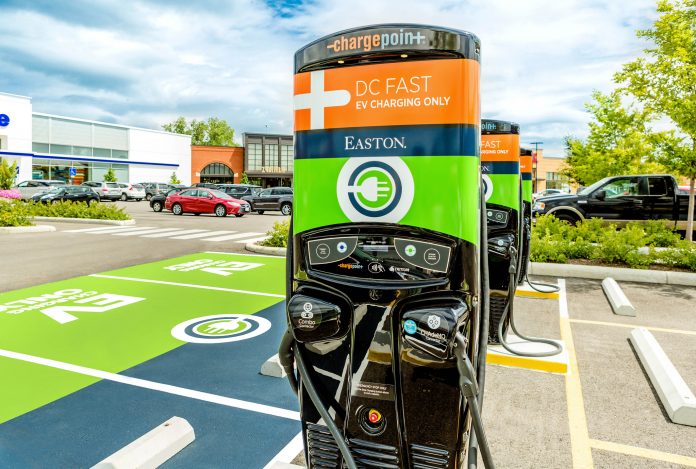 PROVIDENCE – With public comment beginning on National Grid Rhode Island's electric-vehicle or EV, charging proposal on June 19 for Rhode Island, the plan has staunch support in California-based ChargePoint.
The company designs and manufactures EV-charging stations that are being deployed all over Rhode Island, including at Union Station and Hilton Garden Inn in Providence, Wickford Junction in North Kingstown and Whole Foods in Cranston.
The program would support about 366 charging stations at apartment complexes, workplaces, homes and along highways, said ChargePoint, helping position Rhode Island as a leader in the area of electric-vehicle adoption.
"We are seeing exciting momentum in EV charging," said Kevin Miller, ChargePoint director of public policy, who said that internal-combustion engine rollout took place around the same time as electric vehicles. "We were neck in neck when the vehicles started rolling out. Now we're seeing a resurgence, having more on the road. We're also more able to support achieving Rhode Island's economic and environmental goals at the same time," Miller told PBN, including reducing greenhouse-gas emissions and improving air quality.
For its part, National Grid has installed and manages over 150 public EV-charging stations across Rhode Island, Massachusetts and New York.
Rhode Island has 78 EV stations with 164 charging outlets, according to the U.S. Department of Energy.
National Grid's Power Sector Transformation proposal includes building more charging stations in more listed, public locations and offering drivers a lower rate when they charge outside of peak hours, 11 p.m. to 7 a.m., (overnight, for those who have charging stations at their homes, which is 60 percent of users). Miller said that off-grid charging also benefits those who don't charge EVs, spreading out costs over more kilowatt hours.
ChargePoint offers an app to help EV drivers find public charging stations, get in a queue to charge next, see what plugs are free or when their charge is completed, and more.
Miller said that wiring and conduits for electric-vehicle charging is being included in more and more new construction, and it's becoming easier to drive an EV overall. He added that drivers are six times more likely to buy an EV if there is charging where it matters most, such as industrial parks where they work, for example, with resources fueling the buying — and driving — behavior.
"Last May, monthly sales gains for plug-in vehicles was the fourth-best month of all time," said Miller. "Sales are surging … more models are available with major automakers and electrifying fleets are staring to be standard."
Susan Shalhoub is a PBN contributing writer.