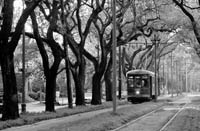 Collette Vacations has been taking tour groups to New Orleans for more than half a century, lodging them in the heart of the French Quarter and immersing them in the city's rich history, culture, music and cuisine.
It's been such a popular destination, Collette CEO Daniel J. Sullivan Jr. said, that the Pawtucket-based tour operator had four different New Orleans tour series, "so we had tours almost every week." There was a group there the week before Hurricane Katrina. Another was scheduled for the week immediately afterward.
Collette hasn't taken tourists to New Orleans since. Nobody really could, Sullivan said, because the hotels were filled with Federal Emergency Management Agency workers, and the staffing levels were too low to support tourism.
A team of 30 Collette workers did travel to the Gulf Coast, but it was to help out for three days with the cleanup in Biloxi, Miss., Sullivan said. Then in January, the CEO visited the city and made a pledge: "We were going to bring tourism back to New Orleans."
On May 22, Sullivan is taking the first step. He is personally leading a four-day tour of New Orleans – the first organized tour of the city, he believes, since Katrina – with some of Collette's best clients, a mix of travel agents and individuals from across the country.
"We're going to reintroduce them to New Orleans," he said. As with Collette's previously offered tours, the group will stay in the French Quarter, do walking tours of the quarter, St. Charles Avenue and the Garden District; dine on Creole specialties at The Court of Two Sisters restaurant and the Culinary Institute of New Orleans; sip café au lait on the banks of the Mississippi, and enjoy top-notch live jazz, among other activities.
The idea, Sullivan said, is to remind people of all the things they've always loved about New Orleans, and invite them to enjoy them again. "We wanted to get there and get people to start traveling to New Orleans again, not just for Collette, but for the industry itself."
All the profits from this and additional New Orleans tours planned for the year will be donated to the American Red Cross for Katrina relief, he said.
Tourism is New Orleans' biggest economic driver, a $5.5 billion industry accounting for 40 percent of the city's annual tax revenue and employing 85,000 people before Katrina. In 2004, 10.1 million people visited the city, according to local tourism officials.
The industry has been slow to recover from the hurricane, however. As of April 1, 174 hotels in the New Orleans metro area were open, with 27,800 rooms available, according to the New Orleans Tourism Marketing Corp. Prior to Katrina, there were 265 hotels with 38,338 rooms. Louis Armstrong International Airport, which had 166 flights daily before, now has about 95.
This year's Mardi Gras drew the first large wave of visitors back to the city, attracting crowds that were about 65 to 70 percent the size of those in previous years, according to the New Orleans Metropolitan Convention and Visitors Bureau.
The New Orleans Jazz and Heritage Festival, which began two weeks ago and continued last weekend, also exceeded organizers' expectations, filling the New Orleans Fair Grounds to capacity with a lineup of hundreds of local musicians as well as international stars such as Bob Dylan, Bruce Springsteen, Fats Domino and Dave Matthews.
But as insurance adjusters, contractors and reconstruction crews gradually leave the city, Bloomberg News recently reported, hotels don't expect to be able to fill all the rooms they're vacating. And conventions are down sharply, with about 550,000 room nights expected to be booked this year, down from an average of 2.2 million in each of the past four years, Mark Wilson, sales and marketing director at Royal Sonesta Hotel New Orleans, told Bloomberg.
To offset those losses with increased tourism, a new ad campaign is inviting visitors to "fall in love with New Orleans all over again," Bloomberg reported, with ads that show Emeril Lagasse holding a redfish, a Creole staple served at his three New Orleans restaurants; musician Allen Toussaint playing the piano, and Wynton Marsalis playing his trumpet in a darkened nightclub.
That's the spirit behind Collette's efforts as well. For this month's tour, Sullivan said, the price has been set at $599, including airfare from most major cities – down from the usual $699 for land only or $969 with air (both for five, not four, days).
"It's really an offer to support the city," Sullivan said. "We just want to create that aura, so people start coming back." Additional tours are already being booked for September, October, November and early next year; the Nov. 13 tour is already sold out, according to the Collette Web site. In December, the tour operator is taking its sales team to New Orleans.
"We're getting everyone involved," Sullivan said. "We used to bring down about 3,000 people a year. If we can do, you know, 750 to 1,000 people for the first year, and then next year get back to 1,500 to 3,000 …"
But is the city really ready for tourism at this point?
"The French Quarter wasn't really affected" by the hurricane, Sullivan said, "so the French Quarter is really business as usual – it's just without the tourists now." As for the rest of New Orleans, he acknowledged, it's a mixed bag.
"There are areas of the city that you're going to drive through where it's back to normal," he said, "and then you go over six blocks in certain areas, and it's devastated. In some areas the houses are just demolished, and you also see houses and there's nobody in them."
That's no reason to stay away, however, Sullivan said – quite the opposite. "Getting tourism back will help things move quicker."
With Bloomberg News reports.