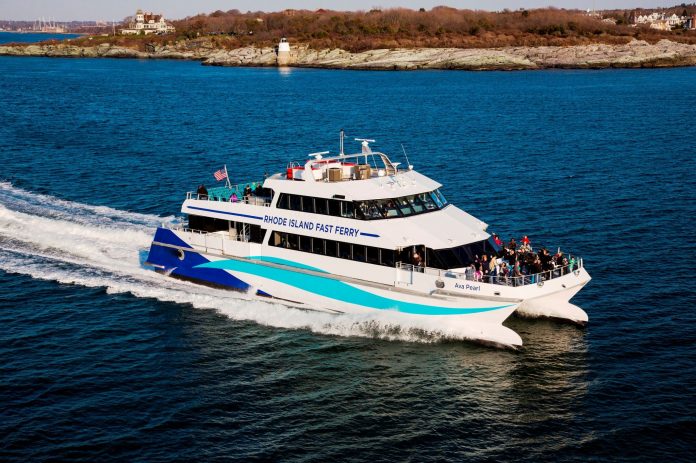 WARWICK — The ongoing dispute about a possible new fast ferry from Quonset Point in North Kingstown to Block Island continued Wednesday morning at the R.I. Division of Public Utilities and Carriers with the owner of Bluewater LLC and New Shoreham's building official taking the stand over the proposed docking at Old Harbor.
Wednesday's hearing was a continuation of last Friday's hearing in which former town manager Nancy Dodge and current town manager Edward Roberge testified New Shoreham doesn't believe Rhode Island Fast Ferry, which received approval for an operations license from DPUC in September 2016, can realistically construct a new dock in Old Harbor.
Bluewater's owner Paul Filippi's plans for Rhode Island Fast Ferry's proposed docking is the refurbishment of the former Mount Hope dock in Old Harbor, which he presented during his testimony. The dock was once used by the Mount Hope Ferry from the late 1880s until the steamship was decommissioned in 1934.
Filippi testified the east dock, which Bluewater plans to connect to, is owned by the U.S. Army Corps of Engineers and is leased to the town. He also said that the lease states the east dock has to be "free and open" to all members of the general public.
New Shoreham town solicitor Katherine Merolla attempted to object on the grounds there was no cross examination of Filippi, but was overruled by hearing officer John Spirito as Spirito said he was asking Filippi directly.
Merolla said after Wednesday's hearing that town building official Marc Tillson testified he couldn't give his approval, which is a requirement on the CRMC's application, of the docking plans because it "violates the law" and zoning issues would exist. Tillson was unavailable for comment Wednesday.
In an interview Friday morning, Tillson said the crux of the issue is New Shoreham has jurisdiction above the mean high watermark in Old Harbor and any construction there would need to have written approval from Tillson which he said he stated in his pre-filed testimony which he was cross-examined on during Wednesday's hearing.
Tillson said he and town officials had a meeting last week with CRMC and they were "in total agreement" that Tillson's written sign-off to build in the mean highwater mark, verifying the land owner's designs comply with zoning, is required. An application to CRMC without an approval letter from the town's building official would be "deficient," Tillson said.
Tillson also said the Army Corps "could" seek an approval letter from Tillson to build in that area since the land is federally owned, but neither Rhode Island Fast Ferry nor Bluewater can because neither party has proven ownership of the land. Tillson said that was a deficiency CRMC stated in its preliminary determination, which Ballard's Inn Real Estate LLC requested in its respective concerns over the project.
"Let's say you decided you wanted to build a marina in Point Judith and you walked halfway down the breakwater and said I want to wharf out from this break wall.' That's kind of what Paul Filippi is doing; he doesn't own [the land]," Tillson said.
Filippi said after the hearing he feels a letter from Tillson is not needed because the walkway near the docks is owned by the U.S. Army Corps of Engineers. Bluewater is applying to the Army Corps to use a portion of the federal navigation project for the walkway, Filippi said. He also said afterward he doesn't understand why the town "wouldn't allow" members of the public to walk up and down the dock to the new ferry.
Jeff Gladstone, attorney who represents two owners of Ballard's Inn Real Estate LLC, testified he believes, according to his understanding of Filippi's earlier testimony, the proposed path to run along the Mount Hope dock would cross onto the property of Ballard's Inn contrary to what Filippi testified to.
"I'm concerned about the placement of a path that crosses onto property," Gladstone said. He testified would like to have a special master look into the matter because he feels legal issues could arise.
Alan Shoer, attorney representing Rhode Island Fast Ferry and Bluewater, said Filippi's plans to be presented to the Army Corps of Engineers and CRMC "will not involve" real estate property owned by Ballard's Inn Real Estate LLC. Filippi also said there are no plans to encroach on the property, stating there was a "misunderstanding of the parties."
Both parties are expected to receive transcripts of the two recent hearings within two weeks, where they will each have three weeks to file post-hearing memoranda. From there, each side will have two weeks to rebut.
A written ruling from Spirito as to whether or not to fully revisit the docking matter is expected to come in June.
James Bessette is a PBN staff writer. Email him at Research@PBN.com.