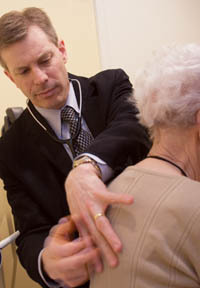 'Patient-financed' care now being offered
It's all about time, doctors say. In today's health care market, insurers pay primary care physicians too little, so they are forced to cram more and more patients into their schedules and see each one for a shorter time.
A new type of medical practice in Rhode Island is rejecting that approach for the very opposite – giving a few patients all the time they need – for a monthly fee. Dubbed "concierge" or "retainer" medicine, it's still a novelty here, but it's been popular on the West Coast for years.
The concept started a decade ago with just two experimental practices, one in Seattle and one in Idaho, said Garrison Bliss, president of the Society for Innovative Medical Practice Design, a Seattle-based nonprofit organization that promotes "patient-financed" practices – those in which the patient pays directly for all services.
Concierge medicine has really taken off in the last two or three years, Bliss said, and today there are about 300 such practices in the United States.
Dr. Lewis R. Weiner started Rhode Island's first concierge practice in Providence about eight months ago. He now has about 300 patients who each pay $1,500 per year for his services. His old practice included more than 3,000 patients, he said.
"That's the thing I felt was not sustainable," Weiner said. "I've thought for years that of all fields, internal medicine is one of the most time-intensive. You're an educator – asking questions, listening, interpreting. It's not two-, five-, seven-minute things. In many cases you're dealing with complex, chronic illnesses."
Frustration with high patient volumes and short visits was also what led Drs. David Candow and Beth Rocchio, who are husband and wife, to open Yestermorrow Family Medicine about six months ago in East Greenwich.
"I often felt I was taking care of paper, not of people," Rocchio said. "There was not enough time to spend with people."
In the new practice, Candow and Rocchio said, they spend one to two hours with first-time patients going over their medical history in detail. They use cloth sheets on exam tables instead of paper and provide robes for extra comfort, and they make themselves available 24/7, providing their e-mail addresses and cell phone numbers – even making house calls when necessary.
In the event of an emergency, they'll direct patients to go to the nearest emergency room, but join them there.
The price: $150 per month for the first person in each family to sign up, $125 for the second, and $100 for any additional family members.
Weiner said his fee – which comes to $125 per month – includes an annual exam with a detailed look at the patient's family history and lifestyle. The exam includes screening for sleep deprivation, depression, daily physical activity and mental health in addition to blood work testing for glucose levels, cholesterol, thyroid and cardiac risk factors.
Patients are responsible for other health care services, such as X-rays, surgery and prescription drugs not covered by the concierge doctor's fee. In addition, the doctor will send the patient to specialists, but as with major medical expenses, the patient needs his own insurance to cover the costs.
Weiner modeled his practice after MDVIP Inc., a Florida-based franchise that helps doctors transition into a patient-financed model. The company's sales have grown more than 19-fold in the past three years, said Nancy Udell, publicity manager for MDVIP.
"The rate of growth is remarkable," Weiner said. "It tells you there is a need for something different."
But concierge medicine is also controversial. Despite a broad consensus among policy-makers that promoting primary care is essential to a strong health care system, many argue that the retainer model only exacerbates the difference in the quality of care for rich and poor.
Still, Bliss said he believes concierge medicine could come to dominate U.S. health care.
"If you can offer consumers in this country something that is better and cheaper than what they're getting right now, then they'll buy it," Bliss said.
Laura Adams, however, president of the Rhode Island Quality Institute, a public-private partnership that promotes quality improvement and technological innovation in health care, said concierge medicine is viable only on a small scale.
If every doctor in Rhode Island limited his or her practice to 600 patients, Adams noted – the maximum number concierge practices will serve – it would leave thousands of patients without a physician.
Weiner said he, for one, isn't trying to replace the mainstream health care system – just offer an alternative. "This practice is an option, an example," he said. "It is not a substitute or in competition with insurance."
But it's made him feel more at peace with his profession, because his patients are happy.
"I feel good about what I'm doing," he said. "I feel like a doctor again. It's the vision that I had when I picked internal medicine."