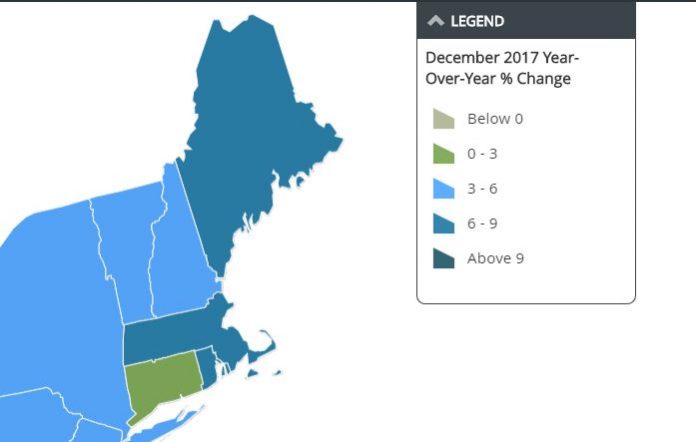 PROVIDENCE – The Providence-Warwick-Fall River metropolitan Home Price Index increased 7.6 percent year over year in December, according to CoreLogic Tuesday.
Nationally, the HPI increased 6.6 percent year over year in the final month of 2017.
In Rhode Island, the HPI increased 8.2 percent year over year in December, the largest year-over-year percentage increase in New England and tied for the fifth-largest percentage increase in the nation with California.
Maine experienced the second-largest HPI percentage increase in New England at 8.1 percent, followed by Massachusetts at 6.2 percent. New Hampshire ranked No. 4 in New England with a 5.8 percent HPI growth, followed by Vermont at 4.1 percent and Connecticut at 1.9 percent.
Washington had the largest HPI growth in the United States at 12 percent.
"Home prices continue to rise as a result of aggressive monetary policy, the economic and jobs recovery, and a lack of housing stock," said Frank Martell, president and CEO of CoreLogic. "As home prices and the cost of originating loans rise, affordability continues to erode, making it more challenging for both first-time buyers and moderate-income families to buy. At this point, we estimate that more than one-third of the 100 largest metropolitan areas are overvalued."
CoreLogic determined that  the Providence metro area was neither undervalued nor overvalued in December.
Chris Bergenheim is the PBN web editor.