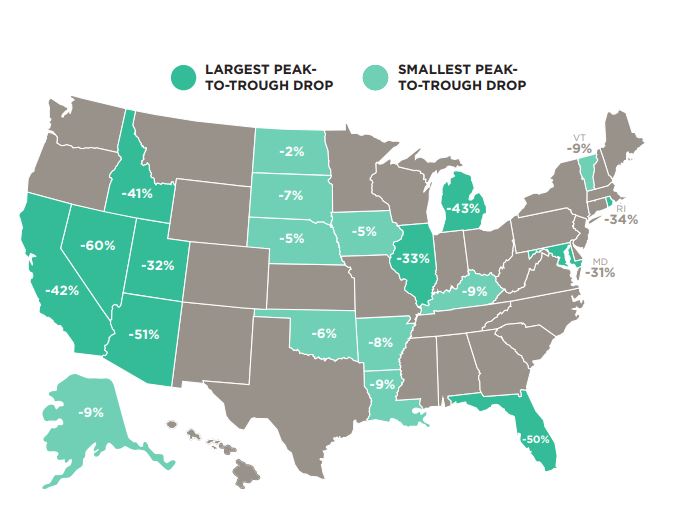 PROVIDENCE – Rhode Island ranked No. 18 in the nation for the largest five-year appreciation of home prices after the Great Recession, according to a CoreLogic report, "Evaluating the Housing Market Since the Great Recession," released Thursday.
The study looked at states' home price index from December 2012 to December 2017. In that time, Rhode Island home prices have gained 29 percent in value. CoreLogic said that Rhode Island home prices experienced their peak in October 2005. From its pre-crisis peak to its trough, the Rhode Island home market depreciated 34 percent. Since its trough, the market has appreciated 34 percent, leaving it 12 percent behind the October 2005 peak value.
The Rhode Island home value was reported to have the seventh largest peak-to-trough decline among all U.S. states. Nevada had the largest decline at 60 percent. Nevada also was reported to have the largest recovery from its trough, increasing 93 percent from trough to current home values. Nevada home prices are still 23 percent below the state's pre-crisis peak in March 2006, the largest such shortfall among the 50 states and the District of Columbia.
CoreLogic noted that most markets in the U.S. bottomed out in 2011.
In the five-year appreciation measurement, Massachusetts home prices have recovered 31 percent. Massachusetts pre-crisis home values also peaked in October 2005. The Bay State market experienced a 21 percent decline from peak to trough. Since the trough, the market has gained 40 percent in value, which puts the current HPI at 10 percent above the October 2005 peak.
Connecticut was reported to have the smallest five-year appreciation of home values in the United States at 5 percent. Home values declined 25 percent from Connecticut's peak pre-crisis market to their trough and remain 19 percent below the pre-crisis peak.
Chris Bergenheim is the PBN web editor.