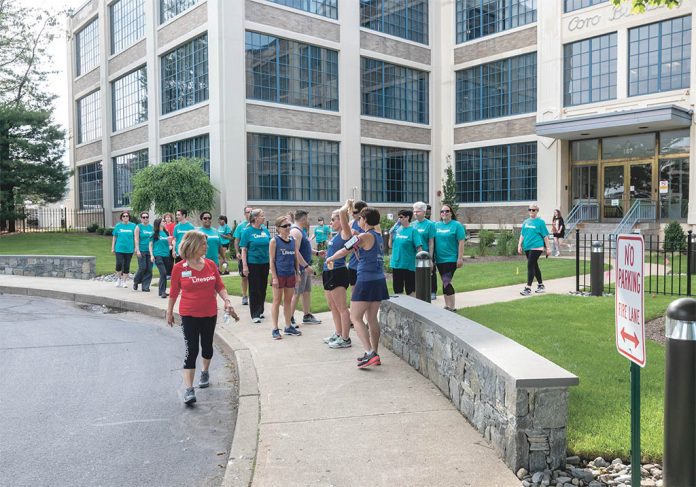 At Brown Medicine, most of its 400 employees take part in annual group outings that have become a popular tradition. In recent years, gatherings have included renting out Mulligan's Island in Cranston, a tent for a WaterFire Providence lighting and even a piano bar.
The Providence-based health care system makes an effort to alternate family-friendly activities with ones appropriate for adults only, said Christine Ellingwood, human resources representative.
Summertime trips alternate with a group photo that Brown shoots every other year, when employees get a chance to have lunch and socialize with colleagues before posing for the photographer, Ellingwood added.
"We try to mix it up a little bit, to try to satisfy everybody," she said. "The benefit is to get out of the workplace, have fun with your co-workers and meet their families, and do something a little different."
For other Rhode Island health care entities managing around-the-clock services and tight budgets, however, the challenge often is in finding different ways to bring employees together and get the same bonding benefits as traditional group trips.
At Care New England Health System, for example, outings away from work for its approximately 6,300 employees aren't within current budgets, so the state's second-largest health care system relies on internal activities to acknowledge employees' worth and hard work.
"Unfortunately [employee excursions aren't] something we've had the privilege to do," CNE spokesman Jim Beardsworth said, adding that lean times lend themselves to creativity.
"While maybe the formality of the corporate outings has changed, the spirit of it lives on," he said. "For the last couple of years we've been laser-focused" on improving patient care and services, so "we try to make up for that internally."
The events include employee appreciation and recognition events, special thank you activities, ice cream socials, education and training fairs, and throwback days in the cafeteria, he said.
Lifespan Corp. and Westerly Hospital also look to blend fun activities into daily schedules whenever possible.
Lifespan, made up of nearly 15,000 employees, breaks its events down to manageable size. While some departments still organize retreats, special activities are usually on-site or extracurricular.
Team Lifespan has seen increasing participation, with more than 50 employees signed up for the Gaspee Days 5K, and a number turning out for Providence's PRIDE celebration, Earth Day cleanups and fundraisers.
Visibility, combined with fun for employees, serves a dual purpose, said Barbara Koll, human resources partner for leadership and management development for Lifespan.
"I think these outreaches have allowed us to build these moments where the community wants to be part of us, and we hire from the community," she said.
Koll was also a lead organizer in Lifespan's appreciation challenge, which was designed to form bonds from the inside.
Shaped by the results of a systemwide survey done about a year ago that included a focus on burnout, the 10-day activity challenged employees to share their appreciation for each other in a variety of ways.
The well-received exercise was developed by a team of volunteers, more than half of whom were psychologists, in response to what their peers had relayed about their work environment.
"In that data, one thing that came out really … loud was that people needed to feel value through recognition from their peers and supervisors," Koll said.
As a result of the activity, about 300 employees submitted stories for their co-workers to see.
Among the hundreds of messages shared with Lifespan staff: A social worker's appreciation for the head of her security team's skill at deescalating situations. A nurse thanked a co-worker for mentoring her and providing support during a difficult interaction with a patient during her first weekend in charge of a unit.
Another nurse thanked her former preceptor for being "calm and compassionate, and incredibly patient with myself, as well as a pretty large influx of newbies" years ago in a newly opened cardiology unit at The Miriam Hospital.
"It's been lots and lots of fun, it has been really openly embraced," Koll said.
Westerly Hospital, with its 600 employees, schedules activities around designations such as Nurses Week, Hospital Week and Doctors Day.
Special meals, educational activities, game breaks and appearances by therapy animals are woven into the day so that first-, second- and third-shift workers can participate, said Mike O'Farrell, the hospital's director of public relations.
"The important thing is making the employees feel engaged and appreciated," he said.
"The overall idea of recognizing a team and taking a break is an important thing considering the [funding] environment we're in," he added. "It's important to take care of each other."
Elizabeth Graham is a PBN staff writer. Email her at Graham@PBN.com.