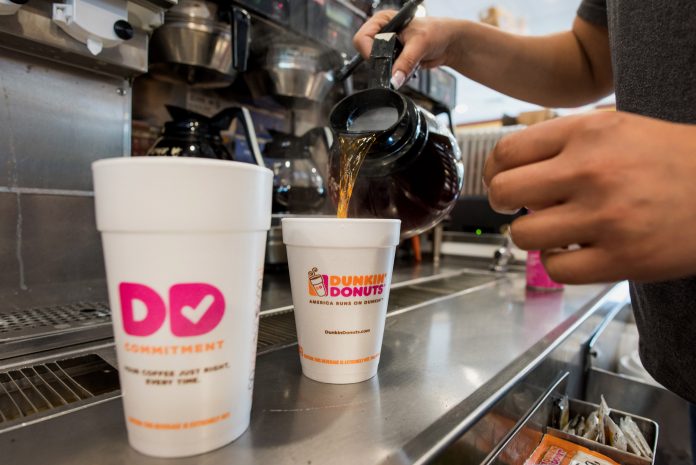 CANTON, Mass. – Dunkin' Brands Group Inc., parent company of the Dunkin' Donuts and Baskin Robbins brands, reported profit of $50.2 million in the first quarter, a 13.2 percent increase on the 2017 first-quarter net income of $44.3 million.
Earnings per diluted share were 57 cents, compared with 48 cents last year.
The company reported revenue of $301.3 million, a 1.7 percent uptick from the previous year's $296.4 million revenue in the quarter.
The company said on a net basis it opened 56 new Dunkin' Donuts locations in the United States and 26 Baskin-Robbins locations.
Dunkin' Donuts U.S. segment profit for the quarter rose 3.3 percent year over year to $105.1 million. The company noted that it had completed a simplification of its Dunkin' Donuts menu nationwide.
The company reported a decline in traffic at its U.S. Dunkin' Donuts stores, but that the average ticket increased. And while the company noted that even as beverage sales increased, driven by the introduction of Girl Scout cookie-inspired coffee flavors and afternoon break value offers, same-store sales at its U.S. Dunkin' Donuts operations fell 0.5 percent year over year.
The company noted that Baskin-Robbin's net margin on ice cream was negatively impacted by the rising cost of ice cream commodities, which affected the segment's profit potential.
"In the first quarter of 2018, we made great headway with numerous strategic growth initiatives … continuing our trend as one of the nation's fastest growing retail brands by unit count; the unveiling of our next-generation Dunkin' Donuts store design; and surpassing $220 million in retail sales of CPG products across both brands," said Nigel Travis, chairman and CEO, in a statement. "Going forward we believe we have the right plans in place, as well as the full alignment of our franchisees, to position ourselves for growth both now and for the long-term."
Chris Bergenheim is the PBN web editor.