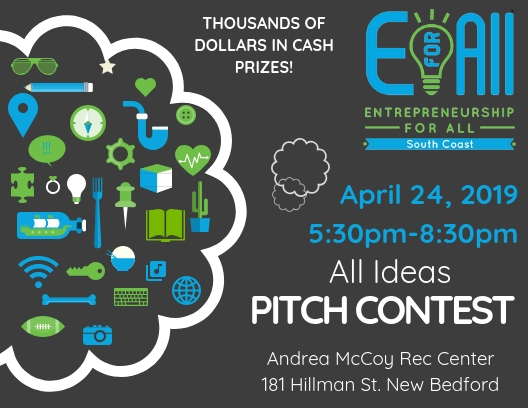 NEW BEDFORD – Entrepreneurship for All, or EforAll, is seeking applications for its next pitch contest, which must be submitted by Thursday.
The event is Wednesday, April 24, from 5:30-8:30 p.m., at Andrea McCoy Recreation Center, 181 Hillman St. Contestants will be asked to present for-profit and nonprofit business ideas within a 2.5-minute time limit and will receive feedback from industry experts.
Applicants can also attend a pitch workshop ahead of time, on Tuesday, April 16, at Groundwork! on Purchase Street.
The public, which chooses the Fan Favorite winner of $500, is welcome to come watch the contest. Light refreshments will be served. The first-place prize is $1,000, with $750 for second and $500 for third.
Susan Shalhoub is a PBN contributing writer.