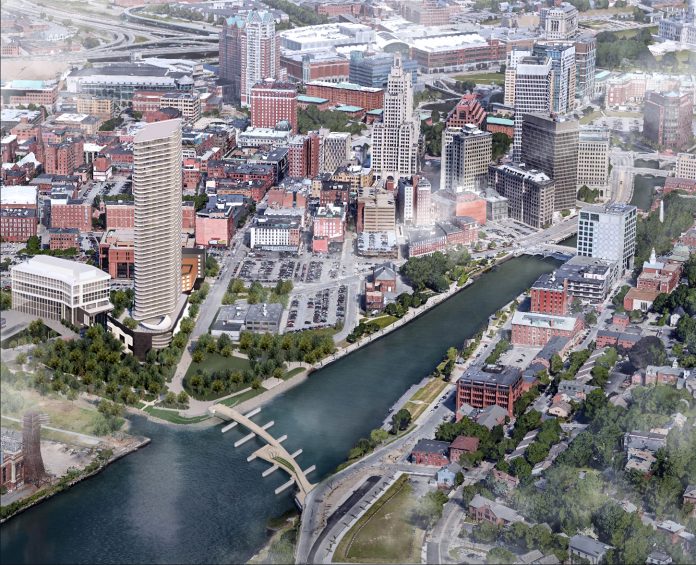 PROVIDENCE – Mayor Jorge O. Elorza issued a statement Monday outlining his conditions for full support of the Hope Point Tower proposed by the Fane Organization.
The reactions to the building have drawn a range of criticism and support, as the developer is seeking a height variance that would allow the residential tower to be the tallest building in Providence. The mayor said he was open to supporting the project but had concerns that needed to be addressed by Fane.
The height variance for the building has already received initial approval from the Providence City Council and would only require one more passed vote to move to the mayor's desk to sign or veto.
Elorza said he would not commit to signing a zoning change before knowing that his concerns would be addressed. The height variance being requested would change a 100-foot height limit to a 600-foot height limit.
Elorza called for an agreement between the Fane Organization and Providence that would give the city final approval over the design of the project, saying, "If this building is going to reshape our skyline, then the city should be able to approve what it looks like."
Currently, the I-195 Redevelopment District Commission, a quasi-public agency, has final approval for the project. It wasn't immediately clear what the process would be for the city to obtain final approval for the design, however, the mayor's office said Elorza is seeking an agreement with Fane rather than with the commission.
Elorza added that the development should benefit the city, saying, "The developer is asking for a zoning change that will dramatically increase the value of the parcel. In exchange for this private benefit, the developer should make a contribution that benefits the public. This contribution can be used to support things such as repairs and maintenance of the pedestrian bridge or other important city priorities."
The proposed building, known as the Hope Point Tower, would scale 46 stories on a site overlooking the Providence River downtown. The parcel is in the Interstate 195 Redevelopment District.
Elorza also included in his statement that he would like to disincentivize what he called "land banking" and wanted to create a timetable for construction that, if not satisfied, would allow the city to reverse the zone change.
Chris Bergenheim is the PBN web editor. Email him at Bergenheim@PBN.com.