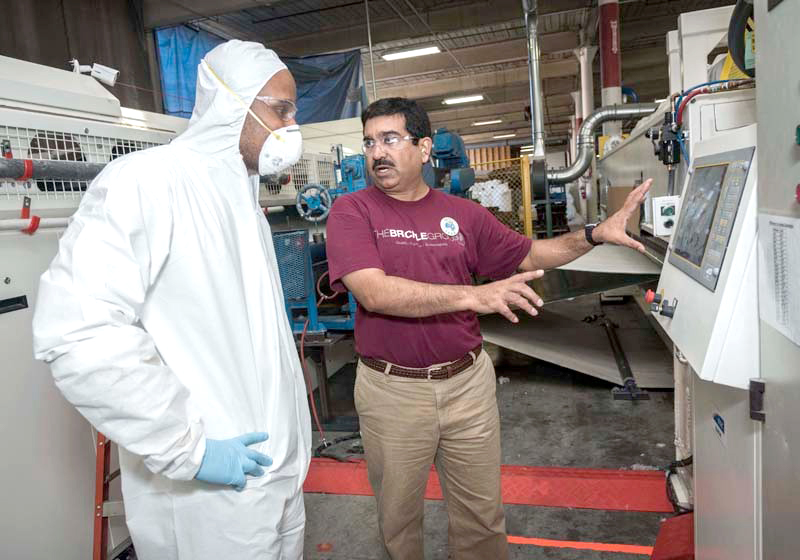 Part of Rhode Island's economic future depends on the state's ability to keep pushing the envelope on job training, and that includes getting employers to keep putting "skin in the game," according to Gov. Gina M. Raimondo.
A prime example, Raimondo said, is the Westerly Education Center, a job-training facility opened in late 2016 with help from contributions from defense contractor General Dynamics Electric Boat, other businesses and nonprofits.
"Electric Boat put [up] a lot of money to basically build the [Westerly] building," she recently told Providence Business News.
Overall, more than 5,000 people have gone through the state's expanded menu of job-training programs during Raimondo's five-year tenure as governor. She said a "vast majority" of trainees have gotten jobs. That includes about 600 people trained in Westerly for positions at Electric Boat.
Under her leadership, Raimondo says the state has shifted its training focus from preparing workers for jobs they want to preparing them for jobs employers are creating.
Business groups such as the Rhode Island Manufacturers Association have assisted in her administration's efforts to revamp training programs.
"We were able to identify where the jobs are and which skills will be necessary," said association ­Chairman Craig Pickell.
The Raimondo administration's signature training initiative is Real Jobs Rhode Island, which she established in 2015 shortly after taking office.
As of April 1, 3,376 people had enrolled in Real Jobs training, of which 2,913, or 86 percent, landed jobs with an average starting wage of $32,946 a year. In addition, 2,485 "incumbent" workers enrolled to update their skills and advance within companies where they already worked. Of those, 47 percent received wage increases after the training, according to the R.I. Department of Labor and Training.
"We now have [more than] 600 employers as partners in the Real Jobs program," Raimondo said.
The investments in training by employers – and by the state and federal governments – vary from program to program. With Electric Boat, for example, the state pays for the training, while the company pays for screening and wages of trainees while in the program, said DLT spokeswoman Angelika Pellegrino.
"Electric Boat also made a $425,000 investment to support the Westerly Education Center," Pellegrino said.
Pickell said more work needs to be done in job training, especially considering emerging industries such as offshore-wind energy.
In that regard, Raimondo's administration is planning to open a second job-training facility. This one would be in Woonsocket, dubbed the Northern Rhode Island Higher Education Center, and includes investment by CVS Health Corp.
"They're making real investments … so that people who get trained there are very likely to get jobs at CVS," Raimondo said.
Scott Blake is a PBN staff writer. Email him at Blake@PBN.com.