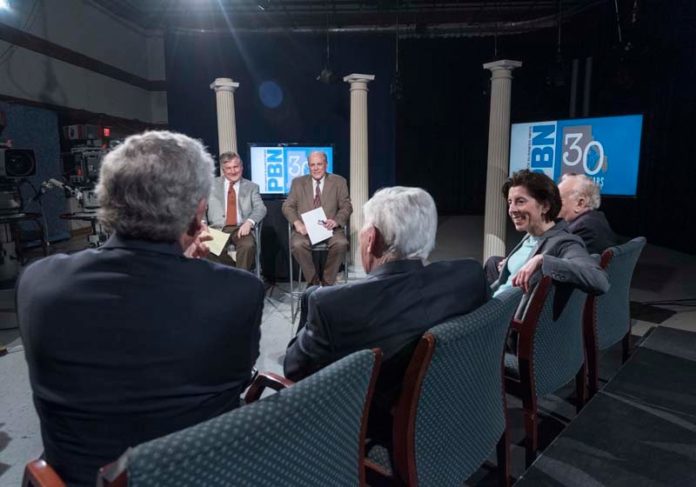 On the occasion of Providence Business News' 30th anniversary, PBN invited Rhode Island's six current and former governors to discuss Rhode Island's economy and their tenures in the state's chief executive office.
PBN Editor Mark S. Murphy and WJAR-TV NBC 10 news anchor Frank Coletta hosted four of the governors – former Govs. Edward D. DiPrete, Lincoln C. Almond, Donald L. Carcieri and current Gov. Gina M. Raimondo – for an hour-long conversation. Former Govs. Philip W. Noel and Lincoln D. Chafee were unable to attend.
COLETTA: Hello and thank you for joining us. We're talking about economic-development efforts in the past 30 years and what should be done for the next 30.
MURPHY: Thanks, Frank. Let's talk about the economy. From the governor's chair it looks a little different, and I'll start with you Gov. Almond. Economies are dynamic. They change all the time, so in the course of your term and even starting before and up until now, there have been changes. So, what is it that a governor can or can't do to affect those changes or to combat or go with them?
ALMOND: You have to look to where your opportunities are. One of the advantages Rhode Island has is our close proximity to Boston, and we've done very well up in northern Rhode Island with respect to Massachusetts and Boston. I think we should continue to look to Massachusetts to help build a Rhode Island economy, and I think that's important.
I think you also have to look at industrial parks. We need industrial parks so that Rhode Island companies can expand, and if you go up to where I was, an administrator in Lincoln, there were a lot of industrial parks up there that we created with the Industrial Foundation, a nonprofit. In Providence, Pawtucket, Cranston, various businesses couldn't expand where they were. They were able to go up [to Lincoln] and expand, and I'm told that even up to today, that if there's a vacant space up there, it's taken immediately, because people need to expand and that's a good thing. Especially with respect to small business. You've got to have a place for small business to expand.
COLETTA: Gov. DiPrete, I think during your administration, the Woonsocket Connector, Route 99 project at least started and I think another part of your administration that maybe helped economic development was the repeal of strikers' benefits.
DIPRETE: Those are two big issues, Frank, you're right. Strikers' benefits was a notorious anti-business legislation and as recently as a few weeks ago, I happened to come across someone who had been in the General Assembly at the time leading the fight against me. It was to maintain strikers' benefits. We chatted awhile, he says, "In retrospect, it was the right thing to do." Nobody's complained since then and it removed a strong anti business stigma from the state.
You mentioned what was then called the Woonsocket Industrial Highway Connector, that was a battle that had gone back to the '60s. Herb DeSimone was director of transportation under then-Gov. [John H.] Chafee, Herb told me this story that's kind of humorous in retrospect. They actually had a groundbreaking, and Herb was at whatever machinery he had. They went 20 feet forward, everybody clapped. They said, "Route 99 is under construction." It stopped right there until we made it a high priority.
Sidney Goldstein, one of the founders of CVS, he told me that it was extremely important to that company that the highway be constructed. They needed access and we made a trip to Washington. We met with federal environmental experts, and we had some help from the White House. The road was approved and that was a major accomplishment … . But it proves one thing. Gov. Raimondo has gotten, I've noticed, personally and actively involved in leading the charges and there's nothing like the governor and maybe a department head of whatever area, going in to the CEO and the president of a company you'd like to have or was already there but has some problems and they see the governor come in and they say, "This is important to the state."
COLETTA: Gov. Carcieri, you did that personal touch with several business ventures, some successful, maybe some not so successful.
CARCIERI: I used to spend a lot of time out visiting businesses. I probably every week would visit two or three, maybe sometimes more. I had just come into office and GTECH was talking about looking at Massachusetts moving, they were here. I knew they didn't really want to; it's not easy to move a business like that. We met with them, brought them in, and one Saturday morning had the speaker, the Senate president, a couple of our federal delegation, everybody around the table, and I pointed out the window and I said, "That's where you should be, right downtown because you're a national firm and I could see all your flags."
Brown & Sharpe, they were bought by Hexagon and they were going to leave and we worked out something for them to come into Quonset. It's a lot of work. It takes a governor to be involved and it's all about the jobs. I used to say, "You can make life complicated when you're in a governor's office. [But] people don't ask for a whole lot. It's about good jobs, good schools, good government and a good place to live, and that's what we need to focus on."
COLETTA: Now up to the present day, Gov. Raimondo, we know you've made many visits to businesses with the same goal.
RAIMONDO: Absolutely. In fact, listening to the other governors, I think of Citizens Bank. I was very engaged in that personally. I started talking to the CEO there after I was elected but before I was inaugurated, and it was just vital that we keep them in Rhode Island. … They are building a new campus in Johnston. It's a big part of the job, and I agree with Gov. DiPrete. When the governor shows up, when the governor picks up the phone and says, "You ought to do this. I want you to think about this," it does make a big difference.
MURPHY: We talked about the personal touch, what can a governor do. I'm also interested in what should your approach be. I'll use a baseball analogy. Are you advancing runners or are you taking a shot for the fences? Gov. Raimondo, you've actually made a lot of very targeted, very specific programs. I mean, you're not looking at the big hit necessarily, not that you wouldn't mind GE deciding to come to Rhode Island.
RAIMONDO: That would be fine.
MURPHY: But really, your energy seems to be focused more on very specific things that seem to be connected to what we do here in Rhode Island. What's the philosophy behind that?
RAIMONDO: I think you do need both, but I don't think we should be just swinging for the fences. I don't think there is any silver bullet. I have more of a blocking and tackling game. We're going to make sure people have good schools, it's affordable to do business, it's an easy place to do business, a tax climate that's not onerous, that people have the skills they need. And all the while, I do do a lot of prospecting to make sure that if there's a big company that's up for grabs, that they can come here. But I want a diversified economy, and I want to make sure that the thousands of businesses that are already here continue to flourish … . That's why we've done a lot to support small businesses, training programs, capital programs. We eliminated the sales tax on energy consumption.
MURPHY: Is that a reality because of Rhode Island's size?
RAIMONDO: I think it's applicable to any size state. We have to figure out what are our strengths, what industries can we be great at. Our location is certainly a strength, right near New York and right near Boston. Amazing colleges and universities. I say, let's build on these strengths and also make sure people have the skills they need. In today's economy, businesses want to be where they can access skilled labor, and a lot of that is something beyond high school.
COLETTA: Mark and I did a forum of business leaders about five years ago and one of them, Jack Partridge, the founding partner of a prominent Rhode Island law firm, said that we were sending bad signals out, at least at that time five years ago. He said, for example, "We've got a Poverty Institute in Rhode Island." I know since then the name has been changed to the Economic Progress Institute, which may be progress right in it of itself. But he also said, "We have a Department of Business Regulation that hints that businesses are over-regulated." How can you help remove that stigma?
ALMOND: You've got to be with these businesses, and you've got to tell them what Rhode Island is and you get the word out. When CVS purchased a major chain out in the Midwest, [the questions was] whether they were going to stay in Rhode Island. Thankfully, we had the Goldsteins and Tom Ryan, who were pro Rhode Island.
FM Global was a major problem because it was a merger of two equals. They were in Chicago. … But we had to keep FM Global in Rhode Island. Shivan Subramaniam was great to work with and he prevailed to keep them in Rhode Island. These are just great success stories for Rhode Island but it's when you get out there and talk [that good things happen].
You've got to be on top of these things. The business community can help out, because I used to get a lot of good leads from the business community about what they hear, rumors about various companies and you follow them up.
CARCIERI: One of the things I used to talk to our staff about, and you both have probably heard me say it: Why is it that southern New Hampshire's boomed? Why did all those people from Massachusetts move to southern New Hampshire and not come to Rhode Island? There's no income tax. It's a low-cost state to live in. So when I came into office, I looked at the total tax burden for Rhode Island, that's the state taxes as well as the property, local taxes, we ranked like fifth-highest in the nation.
You've got to be seen as a place where people want to live, because it's an attractive place to live, but I think for a long time, we haven't been. I don't know if you've been to Nashville. This city is absolutely booming, booming! Yeah, they've got music but it's life sciences. They've got a big health care industry there in Nashville. They got universities. We've got a lot of that. But there is no state income tax there.
There are some basic things that I felt when I was in office and couldn't make a lot of headway on. We brought down the marginal tax rate, which when I came in was nearly 10 percent at the high end in Rhode Island. Meanwhile Massachusetts was 6.25 or 6 percent flat taxed, and we got it down to the six and a quarter. My disappointment when we did that, what the legislature did when we reduced the top end down, they reinstated the capital gains tax.
Needless to say, you're doing something good and then you undo it all by doing something to have the reverse effect. I think things like the estate tax, the capital gains tax [are problematic] in particular, because I see Rhode Islanders all over the place, in Florida and elsewhere, that would just as soon be here but we're driving them out.
COLETTA: This could be the jumping off point for our next segment, the political influence in all of this.
COLETTA: It's often said that the speaker of the House has more power than any governor. And they have their own agenda sometimes. Let's talk about how you deal with that. First of all, with our current governor.
MURPHY: We're not putting you on the spot or anything.
RAIMONDO: Yeah, exactly. No, I have to say, I've been quite fortunate. The Assembly has been excellent to work with. We worked together collaboratively in my first session to put forth a budget, balance the budget, no tax increases, big investments in business. We did the infrastructure bill together, so I'm anxious to get some advice from folks who have more experience than I do, but for my part, the speaker and the Senate president have really been partners to me in the effort, and we're coming at it from the same place.
COLETTA: All right, let's get that advice. Gov. Almond?
ALMOND: Let me just say this, we do a very poor job of budgeting in Rhode Island. The General Assembly looks one day out, and they don't look at the second day, and they don't look three years out, and they don't look five years out. We spend too much. We invest too little, and our debt is too high. When I took office in '95, our debt was within the top five states in the nation. We bonded everything. We had no capital program, no pay-as-you-go program. We borrowed every single dime for highways for years and years and years. There was no current revenue going into transportation.
Our debt service for construction was slightly less than what we spent on construction, and it could go no further. We moved the gas tax over, but unfortunately, that was not nearly enough to take care of the highways. And what the current governor has today with the highways goes back to the fact that we bonded everything for years and years. The problem when I was governor was that we couldn't put more money into transportation because our capital needs on the other side were great and we weren't spending any money on that. We were bonding it all. The colleges, the university. The University of Rhode Island was almost noncompetitive. The dormitories were terrible, the academic buildings were falling apart. The infrastructure was non-existent. It was just terrible.
COLETTA: Let's go to Gov. Carcieri now. Advice?
CARCIERI: There are a lot of scars after eight years in a lot of different battles. The pension issue, as you recall when the economy collapsed. I agree with what Gov. Almond said. We were spending too much money. That's just been what the state has gotten into a pattern for a long period of time. I think in terms of changing the attitude, first of all, and I think Gov. Raimondo is trying to manage the place better and try and get the spending under control.
Medicaid, when I left, it was 28 percent of the budget. It was a constant battle, but to do something to really say, hey, we're back in the game. I think the two biggest things are, I'm saying here to the governor, if you could eliminate the capital gains tax and eliminate the estate tax, you would hang out the biggest sign in the nation that Rhode Island is open for business.
We want all of our people to stay here instead of leaving and going to Florida or other places with all of their accumulated wealth and their businesses. If Lincoln and I had owned a business together, and we were the sole owners and it came time to sell it, we'd be thinking long and hard, and many Rhode Islanders have, of moving to another tax domicile because of the capital gains tax, let alone the estate tax. Neither of those are big revenue items in the whole state budget, and it looks to me like you're kind of in the right trend now in terms of revenue, so I think there's an opportunity here that could put Rhode Island on a whole different position.
COLETTA: Gov. Raimondo, is this kind of tax reform doable in this session of the General Assembly?
RAIMONDO: Let me say this, Govs. Carcieri and Almond both mentioned a couple of things. One, we don't invest enough. We spend too much money and don't invest enough. And since I've been governor, I've reformed Medicaid and pensions. Those are the two big pieces of the puzzle. You can't lower taxes until you first control cost, and last year we had the Reinvent Medicaid effort. It's going to save $80 million this year, $100 million next year, and we finalized the pension reform.
I'm very focused first on reducing business taxes. I have a proposal before the General Assembly right now to vastly reduce the unemployment insurance tax. That hurts every single small business. And last year we did the commercial sales tax. I tend to agree, why lose people to Florida if we could keep them here and it isn't in very much of our revenue? It is definitely something I'm open to but right now, we're focused on small-business taxes and right-sizing government.
COLETTA: Gov. DiPrete?
DIPRETE: We were talking about bonding. The public frequently looks upon bonding as "free money," rather than pay a penny or two more on say, gasoline tax or this or that. It's not free money. Now we're paying back not only the actual cost of construction, but we're paying back like people pay interest on their mortgage of their own home.
To go to another subject on economic development and looking towards the future, infrastructure is so important. I think infrastructure is one of the main reasons that Gov. Raimondo has been successful. For example, with Citizens Bank and looking at the former Interstate 195 property. I know there's a commission overseeing that, but just saying, here's the site for a potential business, without water, sewers, access to it. It's not going to happen until the state takes the leadership and puts the infrastructure in. And businesses, if they're recruited and convinced that they're wanted here without difficulty, will go in.
MURPHY: The 195 land infrastructure program started under Govs. Carcieri and Chafee. But I think there has been a change in the attitude toward developing it with Gov. Raimondo. I'm intrigued by one of the things you all said. There was this acceptance of taking on the added expense from bonding. Why was that? Why did people think that this was a better idea than actually figuring out how to pay for it upfront?
ALMOND: It was a policy. It was the policy of the state to borrow money.
MURPHY: Why would that be a good policy?
ALMOND: Because you could kick the can down the road to the next governor, that's the problem and that's what I just said. The General Assembly doesn't look one day out.
When the General Assembly quits in June, and they pass a budget, that's it for them. They don't worry about what's going to happen in the summer, the fall or the next year. One of the things that I would recommend is, we've got to set goals. I mentioned debt. Set a goal for what our debt should be five years from now, 10 years from now, and it causes discipline with the budget, because you've got to meet those goals. I cut the income tax 10 percent when I was governor because I got the General Assembly to agree to do it over a few years and once you agree to it and people expect it, they're going to do it. But if you don't hold them to these goals, then they're not going to be disciplined.
RAIMONDO: I can tell you, having just gone through an infrastructure bill which involves a truck toll, it's not easy politics. The purpose of that was we need a sustainable funding stream. Forever, Rhode Island has been overly dependent on debt and on the federal government, and as a result, we have some of the worst roads and bridges in America. We said, "Okay, let's do this, have a sustainable funding stream," but it is not easy politics.
MURPHY: You actually accomplished something with the pension reform. Gov. Carcieri started this, but you really took this on as general treasurer in recognizing that it wasn't just the fact that we had poor returns and we're not going to meet our obligations. It was the fact that the state was not putting money away as much as it should have.
RAIMONDO: That's actually not true. The state always put its contribution in.
MURPHY: What were the issues then?
RAIMONDO: The issues were the system was designed poorly over lots and lots and lots of years. It was designed such that people would make more retired than when they were working, but the state never missed a payment to its great credit. Everyone before me always put in what it was supposed to do. It was just a system that had been poorly designed for a long time, and I think at the moment, I was able to spark that public engagement.
CARCIERI: The governor, she's still in office. I don't have to run for anything. It was too generous.
After 30 years or whatever, 35 years, you would get, if you were a state worker or teacher or whatever – my dad was a teacher his whole life – but you would qualify for a pension that was 80 percent of the average of your last three years. You got retiree health care for no copay, zero for the rest of your life, and after three years retired, you get an automatic 3 percent a year cost of living.
I know lots of people ended up retired after five, six, seven years, making more money than they were as they were working, with free health care. I came out of the business world. I don't know anybody that's got that deal. It's not an aspersion, I would take it if I could get it, don't get me wrong, so I don't blame the employees for negotiating it. I blame the legislature and those who went before us for giving these things away because we couldn't afford it.
MURPHY: If you can't afford it though, I'm going back to this. If you can't afford it, the payments you're making may have been what was obligated but it clearly was not covering what the costs were, right? These are actuary tables, this is not something that …
ALMOND: Wait a minute. We were puffing up the figures. We were showing a 7 percent or an 8 percent return when we were getting a 3 percent return, and they wouldn't change it because if they changed it, the contribution of the state would go this way, and we couldn't afford it.
MURPHY: Let's move on to another topic. Demographics. In a generation, one-quarter of the workforce in Rhode Island will be Latino, and the issue there is the fact that Latino educational attainment right now is far below the rest of the population. So if you look at what the workforce brings either as an accelerant or as a retardant to economic progress, that's a big problem. The question is, is this really recognized enough in the state, and are we really focused on education as an investment, not just for the state but for these individuals? The future and the success of the state and the future is tied to that.
CARCIERI: I think a lot of cities and towns probably won't like what I'm going to say, and I can understand why, but they're going to have to – whether you encourage them or mandate it through the legislature – make a concentrated effort to educate people coming into Rhode Island who are legal citizens but have a language barrier which keeps them out of employment of a lot of places. I would say public education's going to have to make a concentrated effort to teach them English not as a second language but as a first language, and then some ancillary skills after they have a knowledge of English. This is how you do this, this is how you service computers and something practical that they're not really capable of doing right now. In the long run, that will be an advantage to the taxpayer.
I think, like the pension, it's a misnomer that Rhode Island doesn't invest in education. Our spending per pupil, when I came into office, I don't know where it is, I've lost track.
MURPHY: The Rhode Island Public Expenditure Council just put out a study, ninth highest spending in the country.
CARCIERI: Yeah, and I think I just saw something the other day comparing us with Massachusetts. The issue is achievement. How are kids doing? And I think the toughest challenge that the governor has, and we all had and I tried my darndest, was the urban schools, because they are performing significantly lower than most of the suburban. … I'm not saying there aren't problems in some of the suburban schools, but the issue is we are just not getting the results that we need to get particularly in the urban schools.
It's complicated. It's a very tough issue, it's not money. Everybody says it's money; it is not money. One of the dissatisfactions I had after I left, because we worked hard. Massachusetts has something called the MCAS – Massachusetts Comprehensive Assessment System. They give every student in the state a test, and you don't get a diploma unless you pass that test. We were working very hard, the Department of Education, when I was in to put that in place.
I was at an event where a young woman got up and said she was given a diploma from one of our schools and then went on to tell how she couldn't read or write, couldn't read or write, and I sort of fell off the chair. Thinking how could we give a diploma to somebody in one of our high schools, obviously she wasn't a problem, so she was just moved along. In the legislature, somewhere in the last session has sort of, what I can see, moved away from some kind of proficiency standard. But unless you measure it and you're saying, "This is what we're going to accept," you're not going to get those kids getting the results that they need to be successful.
RAIMONDO: I want to address your issue of the English-language learners. And you're right by the way, we do spend a lot per pupil, we invest. The answer to you is, we're not doing enough, and we need to take it much more seriously. I'm working right now with the legislature to improve the way we fund English-language learning. We have to do more for two reasons. No. 1, it's the right thing to do. These kids deserve a chance. These are smart kids, and they deserve a chance to be successful. But No. 2, it's for our economy.
We spend a lot of time talking about taxes, and we do need reasonable taxes and a good business climate. Businesses want skilled workers and if 25 percent of our population is, as you say, English language learners or Latino, then we've got to educate them because they deserve it. But also, we're going to be able to attract and retain businesses if we have the best workforce in America. I'm putting through an effort now to have SATs for free in every high school. Not everyone can afford to take the SAT, but a lot of kids are smart, and if they take it, they'll be able to get into college with a scholarship. It's about opportunity. It's about breaking down the opportunity divide and opening it up because it's totally unacceptable, the gap between Latinos and white kids.
COLETTA: Mark and I hosted a forum of governors five years ago and at that forum, the late Gov. Bruce Sundlun suggested in his own inimitable gruff but charming style, he said, "We need 39 public school systems like we need a hole in the head." Now there are actually 36 with the regionalization but the point is still valid. He suggested we have five Rhode Island counties, why not five school systems. Would that be more efficient to achieving our education goals in general and also addressing this problem with the Latino community?
ALMOND: Frank, I've heard this a million times. Education is a labor-intensive function. You can have one school district or you can have 39, it's not going to be that much more efficient. What you've got to look at is if you had fewer school districts, would we educate better? That's the issue. It's not saving money, because you could save money tomorrow by increasing class size and cutting out teachers.
COLETTA: Gov. Raimondo and gentleman, we'd like you to offer some helpful information to the business community about what they can do to help move this economy forward. Gov. Carcieri?
CARCIERI: Well there's a lot of things you need. If you look around the country and go to states that are booming, generally it's got a strong, vibrant business community that's out there advocating for the things that are pro-business. When I was in office, we had lots of efforts to try and reach out. I think that's very important. It's a huge help for the governor because now, the three of us are Republicans other than Gov. Raimondo, so we had Democrat legislatures.
It was always by nature a confrontation, unfortunately. That's just the nature of politics. I liked having a business community and needed a business community to really advocate and help advocate for things, because their interest is in what's best to promote their businesses, and they want to employ more people. That's what they want.
COLETTA: All right, advocate. Gov. Almond?
ALMOND: I was fortunate, I created the Economic Policy Council and was fortunate enough to have some really good businesspeople sit on it. They funded their own expenses. The first year we had Rob Atkinson from Washington come up and work with us for two years. He was tremendous. He came up with a lot of great things. The business community came up with the issues, we came up with a lot of solutions. We went to the General Assembly and we got a lot of things passed. They were great. There were about 15 business leaders who met on a monthly basis with an executive director.
COLETTA: All right, constant communication. Gov. DiPrete?
DIPRETE: I think it's important for the business community, and I mean the CEO type, to personally attend meetings involving development of business in Rhode Island. When I was in office, we had the Port Authority, which oversaw the development of the so-called Quonset Point area. You could look around the table there and you'd be proud to say, "That person there can go out and represent me as a governor," or "I will ask that person to come with me as governor to go, for example, to solicit Toray." We went to Japan, Lou Fasano and I, put on a presentation and Toray said, "That sounds good."
COLETTA: Gov. Raimondo?
RAIMONDO: Yes. Stay engaged. Stay engaged, serve on a board or commission. We recently rolled out a program to provide computer science instruction in every school in Rhode Island. We need volunteers from the business community. I would love IT volunteers to sign up for that. Get engaged because they have a lot to gain or lose, and they have a lot at stake. And above all that, keep your business here and add jobs here, because that's going to keep us going. •