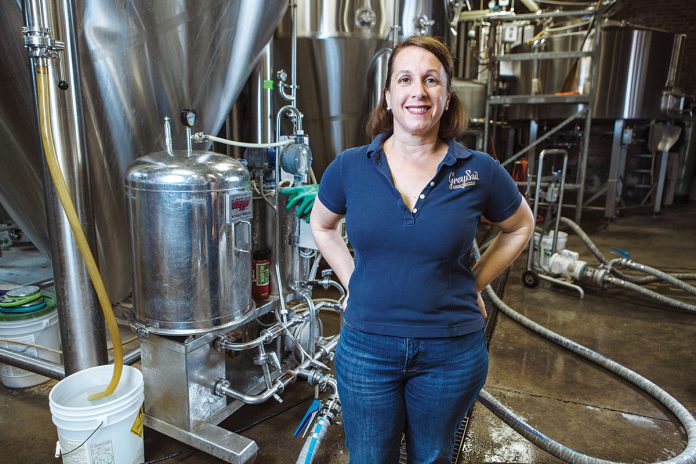 Business Women Awards 2019 | HONOREE
Jennifer Brinton, Grey Sail Brewing of Rhode Island
---
"You can't teach work ethic, but you can model it," said Jennifer Brinton, co-owner of Grey Sail Brewing of Rhode Island. "I don't ask [staff] to do something I won't do, and they see that."
Brinton said that the common culture of all team members pitching in equally nurtures the family atmosphere at the Westerly brewery she owns with her husband, Alan Brinton.
"We are a family brewery with our 11 staff members," said Jennifer Brinton. "We strive for that culture of feeling like we are a family brewery."
Having the right team members in place sped up the couple's plan to start the brewery seven years ago. Brewing, said Brinton, was a hobby for her husband while their children were small. The two talked about exploring the idea of starting a brewery as a business but were purposely moving slowly in their planning. Then, they found a head brewer, and things just snowballed from there, said Brinton.
There were other signs that the brewery should begin, as well.
A distributor sought out Grey Sail early on: McLaughlin & Moran Inc. of Cranston, after reading about the brewery in the news. "They really have been essential. [They] wanted to meet and were interested in our story and taking us on as a brand. They believed in what we wanted to create," said Brinton, who admitted to doing cartwheels in her house after receiving the message from the company that it was interested in Grey Sail for its craft-beer portfolio.
Grey Sail products are now distributed all over New England and in New York.
Since its 2011 founding the brewery has doubled in size and is now at 7,500 square feet after a fall renovation, boosting capacity for the summer season, when Grey Sail brews multiple times a day, Brinton said in 2018.
Brinton, a former process engineer, and her husband have four daughters. She runs an event-planning company on a part-time basis, in addition to handling the financial side of things at Grey Sail.
For a woman with seemingly limitless energy, Brinton also manages a chronic disease, multiple sclerosis.
That, she said, is also a team effort at the brewery.
"My husband is huge at preventing triggers from happening," she said. "My staff prevents me from having almost all stress. It's all about having the right people."
Housed in the former Westerly Macaroni Factory on Canal Street, in a 1924 building that still bears the pasta company name, Grey Sail is in an iconic location.
She enjoys learning about the old building's history and has even met a woman who used to live in the building as a child, when her relatives worked at the factory.
But along with pride in its historic location, the brewery is always looking ahead. So, with the building reincarnation well underway with the brewery, Grey Sail opened its taproom in 2016. Though manufacturing is the core business, the taproom features regional beers in addition to their own, Brinton said, and tasting events.
As a member of the Rhode Island Brewers Guild executive board, she then takes it a step further, getting involved and banding with other brewers to further elevate the regional craft-brewing industry and spur growth.
"We shouldn't be battling it out with each other. The guild works to promote synergy rather than competition," said Brinton.