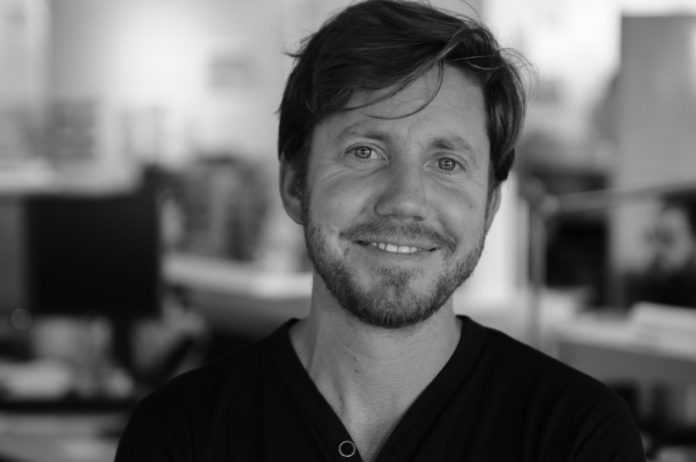 Adam Anderson, a landscape architect and owner of Providence-based Design Under Sky, recently was honored for his work in creating 10,000 Suns, an installation of sunflowers on two still-undeveloped parcels in the Interstate 195 Redevelopment District.
With the help of volunteers, Anderson two years ago planted some 10,000 seeds for the sunflower fields, arranged in rows. He then allowed the blooms to fade in place to regenerate, and replanted as well. He received a special recognition award for the project from the Rhode Island chapter of the American Society of Landscape Architects.
PBN: Explain what 10,000 Suns was?
ANDERSON: It was a response to a lot of the talk of the 195 land, the talk of it being developed, and big money coming in to activate that land and promote Providence as a city that's growing and changing. My response was, well, a lot of these things can be done with landscape architecture, a civic and a landscape response that is done for the cost of a bag of seed and soil. I call it a botanical performance. People can watch this space, and it's been sitting there for seven years, and transform it. And show how landscape can be an active agency in the city.
PBN: What were you trying to achieve with this installation?
ANDERSON: The instinctive thing was an artistic [expression]. My first impression … was the surreal setting with the city as the backdrop. Just me being out there in the evenings, on the weekends, it was an opportunity for me to talk to people about the urban landscape and how in my opinion Providence was mostly addressing things through a civil-engineering perspective, and not through a landscape-architecture perspective, which incorporates people and ideas of nature into the city.
PBN: How do you see the role of landscape architecture within the I-195 district?
ANDERSON: Landscape architects should be at the table in every conversation. Every great city has great parks. They should be thought of not as an accessory but as an integral part of the city. [Too often] we do the building and we say, "Oh, let's put some stuff around it."
PBN: Tell us about what you did with The Shack. This is an outdoor space for people employed in the emerging area of the I-195 district near the Wexford site. What was your role here?
ANDERSON: I was one of the partners in developing it. I was basically the designer of the site. The idea was we have this small, little building, but the landscape itself is unique. We have a seashell-paving eating area. All of this was designed with the idea that it's going to be temporary. There are little [hills.] A lot of the work involves land forming, shaping the ground. … As soon as kids go there, they immediately run. A kid 3-foot high just loves this thing, it's a mountain to them.
PBN: How do you come up with inspiration for spaces? 
ANDERSON: Inspiration starts with the latent potential that always exists in a site. I kind of reject the idea of place-making. You can't make a place. You can begin a foundation of making layers, where that place will eventually be made. There is always latent potential there. When I go to a site, I begin to see that. And then it is what the client is trying to achieve, and finding creative ways to do that. All of my work, from a landscape perspective, it's not traditional. It leans more toward the esoteric and the abstraction of nature.
Mary MacDonald is a staff writer for the PBN. Contact her at macdonald@pbn.com.