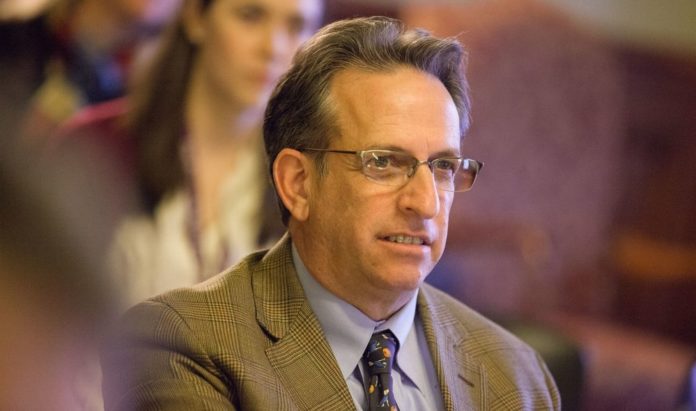 Sen. Joshua Miller, D-Cranston, is chairman of the Senate Committee on Health and Human Services, a member of the Senate Committee on Environment & Agriculture and the Democratic caucus policy chair. He recently spoke with Providence Business News regarding a number of health-related topics, including the Affordable Care Act, risky substance use; the legalization of marijuana; and the addiction epidemic in Rhode Island.
PBN: The Office of the Health Insurance Commissioner and HealthSource RI appear to be working the Affordable Care Act system to mitigate both the effect of cost-sharing reduction payment cancellation and the lack of federal marketing support during enrollment. What odds do you give the Ocean State on continuing success with the ACA as the insurance mandate ends?
MILLER: HealthSource RI has a great record for both enrollment and insurer participation above the national average. Rhode Island is doing well again this year. We are working with many who are very concerned about the disruptive impact of removing the ACA mandate. There will be proposals to consider early in the 2018 legislative session.
PBN: The Providence Center announced a new teen-oriented substance abuse treatment center opening in January. How much more work would you say is needed to address your interest in the need for substance abuse hospital beds for adolescent girls in the state?
MILLER: I believe the services for adolescents expected to be provided by the center do not include residential treatment, therefore R.I. will remain without this critical care component without having to go out of state.
PBN:  What parallels do you see between the effort to legalize marijuana and the end of prohibition?
MILLER: As in 1933? Alcohol use continued through prohibition. Bootleg products were dangerous, often lethal. Criminals ran and profited from the black market. There was no revenue available to build a response to the multiple negative social impacts of alcoholism from the black market, and few resources from government or others interested in making a difference in friends', relatives' and neighbors' lives.
PBN: Do you feel your proposed bill to bolster ACA protections would still be good insurance against continued GOP efforts to undermine the federal law?
MILLER:  Yes, an essential effort that remains as a priority.
PBN: Please share the most pressing local health care concern and your idea for dealing with it.
MILLER: We are in the midst of an addiction epidemic in our nation. R.I. is impacted as a state, where no demographic is spared from the homeless to the one-percenter, from the alcoholic to the heroin/fentanyl addict and everything in between.
For those seeking treatment, many barriers remain: access to insurance that covers services quickly and thoroughly, an adequate network of inpatient and/or outpatient care and recovery support that includes housing and employment. Helping to fill these gaps remains my priority. There is a large alliance, both within government and throughout Rhode Island, who share[s] an interest in seeing progress sooner rather than later, as lives are lost as we wait.
Rob Borkowski is a PBN staff writer. Email him at Borkowski@PBN.com.