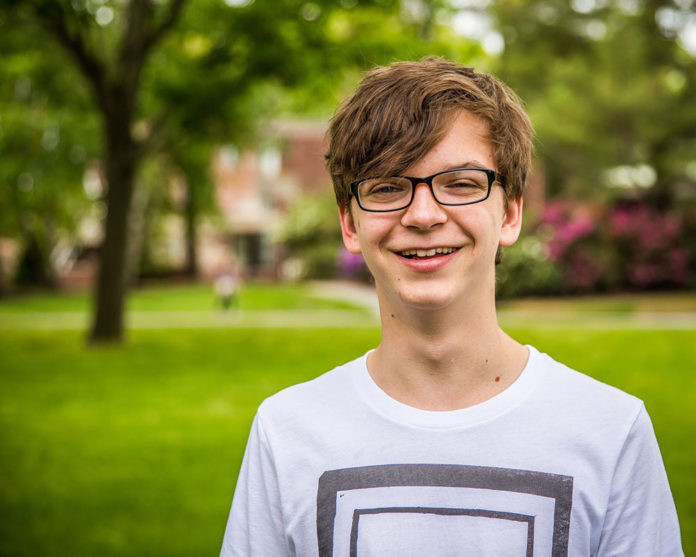 Keegan Bonds-Harmon, a 15-year-old rising sophomore at The Metropolitan Regional Career & Technical Center in Providence, recently won the Network for Teaching Entrepreneurship New England Regional Youth Entrepreneurship challenge. A Providence resident, Bonds-Harmon began printing his own original artwork at age 11. He created his business, Keegan's Creatures, which prints his personal artwork on upcycled and recycled clothing, in sixth grade.
PBN: How does it feel winning first place at the Network for Teaching Entrepreneurship New England Regional Youth Entrepreneurship Challenge?
BONDS-HARMON: So exciting! I'm honored to represent New England at nationals. And being funded [by my winnings] has been extremely helpful to my business.
PBN: How do you feel your education at the Metropolitan Regional Career and Technical Center, or the Met, set you apart from your fellow competitors?
BONDS-HARMON: In terms of NFTE, I was able to attend the Met's E360 class at the Center for Innovation and Entrepreneurship, which gave me the time and lessons I needed to finetune my formal business and presenting skills. And the Met has a very self-guided structure that has really allowed me to explore my passion for art and business.
PBN: How are you preparing for the national competition in October?
BONDS-HARMON: This summer I have been spending much of my time working to get [my products] featured in more stores, selling at more events and creating more – anything to make myself more prolific and credible.
PBN: Your entry, Keegan's Creatures, focuses on creativity, self-expression and combats fast fashion culture – what inspired you to create this business?
BONDS-HARMON: I started my business four years ago in order to make my passion for art (specifically printmaking and fashion) sustainable and accessible to others. Keegan's Creatures is essentially a vehicle for my art. Creating small businesses that distribute art is very common in the Providence art scene. I owe lots of my success and inspiration to [it].
PBN: What are your plans for college? Where and what would you like to study?
BONDS-HARMON: I have my fingers crossed for the Rhode Island School of Design and definitely want to attend an art school!
Emily Gowdey-Backus is a staff writer for PBN. You can follow her on Twitter @FlashGowdey or contact her via email, gowdey-backus@pbn.com.