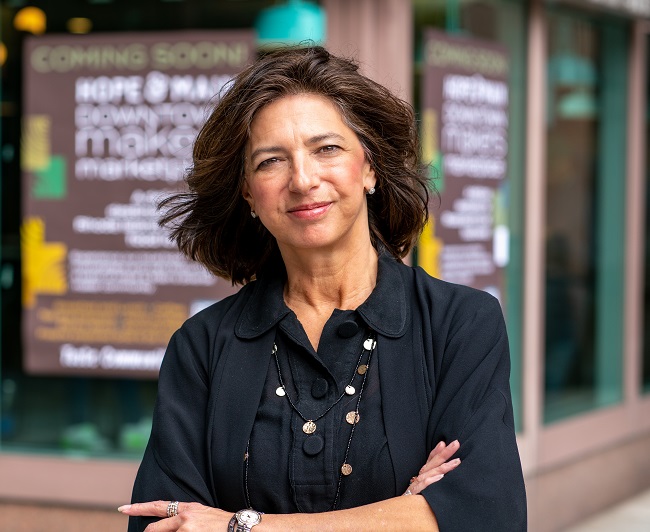 Lisa Raiola is president and founder of the nonprofit Hope & Main, the culinary incubator that's helped launch nearly 300 food businesses since it started in 2014, now with a presence in downtown Providence.
Hope & Main, which is headquartered in Warren, recently opened its new Downtown Makers Marketplace on the ground level of the Paolino Properties LP office building at 100 Westminster St. The organization also recently bought the former JKL Engineering building at 945 Westminster St. on Federal Hill, with plans to establish six new commercial kitchens there.
PBN: Can you tell us about this 945 Westminster St. property that was recently purchased by Hope & Main and why the nonprofit acquired this building?
RAIOLA: Hope & Main has been searching for the right opportunity to expand to Providence for a year. We experienced a 50% surge in applications to our incubation program between 2020 and 2022, and we project this will eventually test the limits of kitchen hours available in our Warren facility.
More than half of our recent applications are from Greater Providence – 40% are foodpreneurs of color and 60% are women. Many folks displaced from the food industry during COVID are seeking opportunities to launch their own business.
Hope & Main West End Kitchens in Providence will add four new kitchens available for hourly rental to Hope & Main members, doubling our capacity. The building gave us so much, including a loading dock; secure parking for food trailers and trucks; more than 10,000 square feet of cold, dry and frozen storage capacity; an area for incubation education; and a classroom, as well as offices; and room to build out two graduate kitchens for member businesses seeking a permanent production space.
PBN: How does this facility fit in with what Hope & Main is doing in a different section of Westminster Street, at the 100 Westminster St. Paolino Building?
RAIOLA: These are wonderfully synergistic projects. The Hope & Main Downtown Makers Marketplace will be the first place to offer new food and beverage products and packaged foods created by the Hope & Main member businesses at the West End Kitchens. For a new food business, the journey to a retail shelf is full of high hurdles. The opportunity, just a few months into launching your business at Hope & Main West End Kitchens or at our Warren location, to feature your product at the Downtown Makers Marketplace is a huge advantage for food startups. This will help to accelerate new brands in the local marketplace, I think, much to the delight of Rhode Island eaters everywhere.
PBN: How was Hope & Main financially able to acquire this 945 Westminster St. property?
RAIOLA: Two highly mission-aligned organizations assisted us to acquire the building at 925 Westminster St.: the Providence Business Loan Fund, as well as Massachusetts Housing Investment Corp. We are especially grateful to these organizations for their partnership given our aggressive timeline. Their early support will undoubtedly help us to bring other financing and funding to the table. The key to success for this project is maintaining affordable kitchen rental rates, and that will require additional low-interest financing and $3 million-plus of contributed revenue through our capital campaign.
PBN: How does the 945 Westminster St. operation work out ideally in the long run, in terms of its impact on Providence and the development of the dining/culinary industry here?
RAIOLA: Our program is designed to drive economic mobility for individuals and economic development for the local community. The pandemic has had disparate and devastating impacts on small businesses, particularly those owned by women and people of color. Pandemic impacts have highlighted the wealth gap in our country, creating greater urgency to view entrepreneurship as a means of wealth generation and pathways for business owners and communities to recover and flourish.
Hope & Main West End Kitchens will provide access to hundreds of aspiring foodprenuers to launch and scale businesses that will ultimately graduate into local neighborhoods, create local jobs and build a more just and vibrant local food economy for Providence.
PBN: Is Hope & Main going to be maintaining its headquarters at 691 Main St. in Warren, or is the organization going to be moving to Providence sometime, considering all that you're doing in the city now?
RAIOLA: We are 100% loyal to Warren and will maintain our facility there even as we expand to Providence. The community of Warren believed in our vision and literally had to vote us into existence a decade ago when we first purchased the decommissioned elementary school that became our home. Warren has supported our makers markets, our emergency food assistance program, Nourish Our Neighbors, and were the first cheerleaders for our mission. We wear our love for Warren as a badge of honor.
Marc Larocque is a PBN contributing writer. 

Want to share this story? Click Here to purchase a link that allows anyone to read it on any device whether or not they are a subscriber.