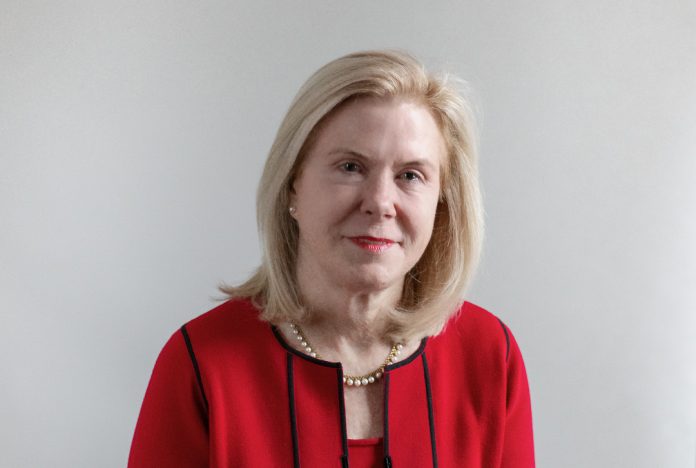 As of the new year, Mary Brooks "Polly" Wall is the new Rhode Island Foundation board chair. A retired Royal Bank of Scotland executive, Wall has served on the board since 2011 and most recently as secretary and head of the finance committee. Prior to working for RBS, she was a grain merchandiser at Continental Grain Co. and completed global credit training at Chase Bank Manhattan.
Wall holds a bachelor's degree from Brown University and an MBA from Harvard University. Succeeding Marie Langlois, Wall will serve a three-year tenure as board chair of the 13-member committee.
PBN: You've served on the Rhode Island Foundation board for eight years. Which positions have you held during that time?
WALL: Since joining the board in 2011, I have served on most of our committees. In 2018, I served as board secretary, chaired the finance committee and served on the audit, nominating and corporate governance and impact investing committees. Participating in the foundation's work from those various perspectives was wonderful preparation for me to step into a new role as chair.
PBN: What do you think of the state of philanthropy in Rhode Island today? Are those in need receiving all the support local residents can provide?
WALL: The generosity of our donors is inspiring, [but] there is immense need. There are countless serious and heartwarming opportunities to encourage, support and improve the lives of the state's residents. The foundation will continue to champion philanthropy by celebrating the results of giving and by ensuring that our grants are targeted and impactful.
PBN: Is the support available broad enough to cover the various needs of those individuals or are there some aspects of care that are more saturated than others when it comes to nonprofit organizations?
WALL: The foundation works hard to raise funds and make grants to fill funding gaps and we will continue to do so. There aren't enough resources [to go around] and we have to make informed choices about in which organizations we invest.
PBN: In 2017, the second-to-last year of your predecessor Marie Langlois' tenure, the foundation raised $38 million and awarded $43 million in grants to 1,700 nonprofits. How do you hope to continue the organization's history as the largest philanthropic body in the state during your tenure?
WALL: Langlois is a superlative leader. I come to this office with a deep personal connection to the foundation, as my dad, John Wall, also served on the board for many years. Living up to those legacies will be both a joy and a challenge. My hope is to continue a long tradition of leaving the foundation in an ever-stronger state over time, assisted by our outstanding staff.
PBN: In what areas would you like to see the foundation expand its grant-giving?
WALL: Equity will be an increasingly important consideration in our work. This is already evident in some of our recent grant awards, which support our healthy lives, economic security and educational-success strategic priorities. By drilling down to address social determinants that produce disparate outcomes, we hope to dramatically leverage the power of our grants to improve the lives of all Rhode Islanders.
Emily Gowdey-Backus is a staff writer for PBN. You can follow her on Twitter @FlashGowdey or contact her via email, gowdey-backus@pbn.com.