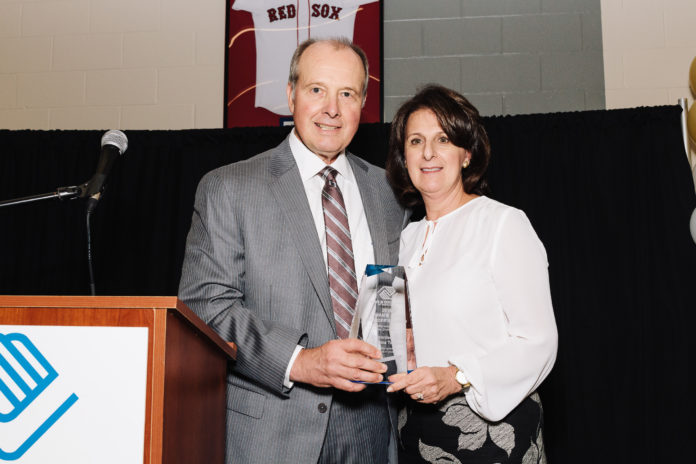 Mike Tamburro serves as a trustee to the Boys & Girls Club of Pawtucket and sits on the boards of Meeting Street School, Bristol County Savings Charitable Foundation, the PawSox/Skeffington Charitable Foundation and helped establish the Pawtucket Red Sox Charitable Foundation. His wife, Anna, sits on the board of the Children's Shelter of Blackstone Valley. For the past year, the couple has served as honorary co-chairs of the Boys & Girls Club of Pawtucket's Building Better Futures Capital & Endowment Campaign. Although Mike responded to PBN's below questions, both Mike and Anna recently received the Lyman B. Goff Founder's Award from the Boys & Girls Club of Pawtucket.
PBN: In October, you were [both] presented the Lyman B. Goff Founder's Award from the Boys & Girls Club of Pawtucket. What does this recognition mean to you?
TAMBURRO: There are so many worthy and dedicated people who support the Boys & Girls Club of Pawtucket in so many ways. While just knowing the positive impact our work with the club has on the lives of youth in our community is reward enough, I was flattered and truly honored to receive such a prestigious award.
PBN: What impact do you believe the club can have on a young person's life?
TAMBURRO: The club enhances the lives of its members, builds character and responsibility and offers hope and opportunity. Boys & Girls Club of Pawtucket staff encourages members to dream big and work hard to realize those dreams. Frequently those dreams are ones many people take for granted – for many of the youth who attend the club, graduating from high school and attending college is a goal they never thought they could achieve. When kids attend the club, the future becomes a bigger and brighter place than they ever could have imagined. We know firsthand – I was a Boys Club kid!
PBN: Why did you choose to serve as an honorary co-chair for the club's Building Better Futures project and what impact will this campaign have on the local community?
TAMBURRO: I credit much of the success I have seen in life to my time as a Boys Club kid when I was younger. We both know the incredible impact club membership can have for a youth. When the Boys & Girls Club of Pawtucket requests your services to help lead an important community project, you find the time to help. Also, it was exciting knowing we would be working with the campaign co-chairs Bill and Mary Lou Catelli, who did a tremendous job leading this project.
In total, the club raised more than $8 million for the complete renovation of its 42,000-square-foot facility and toward the new construction of an 18,000-square-foot teen center and gymnasium addition. Now that the expansion and renovation are complete, the club is able to serve youth with expanded and enhanced programs – a highlight of which is a state-of-the art visual and performing arts suite. For a community that, over the last several years, has deeply felt the economic downturn, this project is a beacon of light.
PBN: What role does philanthropy play in your personal life?
TAMBURRO: Understanding the needs of the community and attempting to fill those needs has always played a prominent role in our lives. We are lucky to have been in a position, both through my work with the Pawtucket Red Sox and personally, to make investments in community organizations, which are near and dear to our hearts and which we believe help make life better for those in our community.
PBN: What do you think of the current state of philanthropy in Rhode Island? What would you say to fellow Rhode Islanders to encourage them to support causes?
TAMBURRO: Rhode Island is a small state and you rarely meet someone new without quickly discovering a common connection. Knowing who your neighbors are helps encourage people to take care of one another. We believe it is more than that though – to help lift up those in our community who are in need is a responsibility that belongs to each and every one of us and we should each be proud to answer the call in our own most generous way.