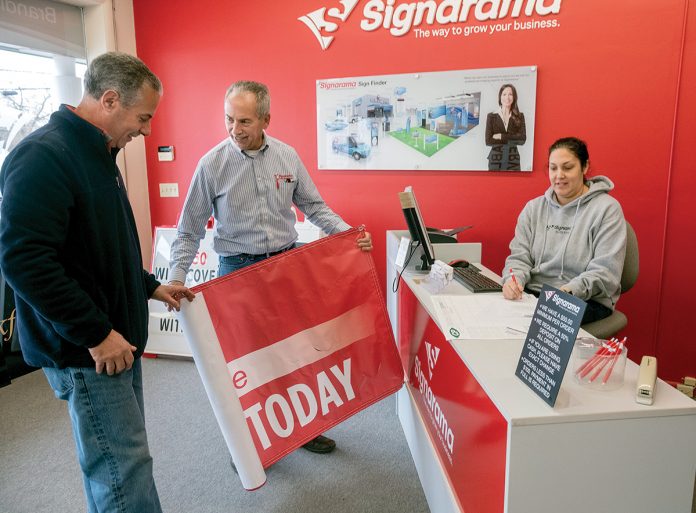 Joe Lomastro | Signarama | 6855 Post Road, North Kingstown
---
The pitch: Signarama is a full-service sign company, where custom signs, such as banners or vehicle lettering, can be made to order either at the shop or by vendors contracted by the shop.
Years in business: 16.5
Number of employees: Three
Cost to obtain franchise: $49,500 franchise fee; $168,000-$172,000 total investment
Before opening the franchise: Lomastro worked for 20 years at Stanley Bostitch when it was in operation in East Greenwich, followed by an aircraft engine company and then a braided rug company – all on the operation side.
Reason for opening franchise: Lomastro wanted to open his own business, as well as continue working in the manufacturing industry.
---
"The most rewarding thing is driving around to other places and seeing signs that you've done before. You see it from start to finish and don't see it again. Then, you're driving down the road and you see a sign, and you say, 'Oh, I remember, I did that sign.' "
"A group had a large event for [the late Chariho High School soccer player] Maddie Potts over the summer and we donated all of the banners for it. So, we [help out] with things like that."
"Our service [separates us from our competitors]. If someone comes in for a job … and needs it right away, nine times out of 10 we'll get it done for them. [We offer] quick turnarounds and we get back to everybody."
"I was looking for something [as my own business] and I enjoy manufacturing. I was looking for something where I could still manufacture … and do it on my own. It was very simple: I never thought of signs prior to this. I just Googled 'manufacturing companies' and Signarama franchise was one of the opportunities that came up."
"You need to read all the fine lines [before getting into franchising] and if you decide to do it, you have to give it 150 percent. I've seen owners come in and think that they don't have to work; you've got to work. Just because it's a franchise doesn't mean it's going to run by itself. You still have to come in … and put the sweat in, and you'll get the payback."