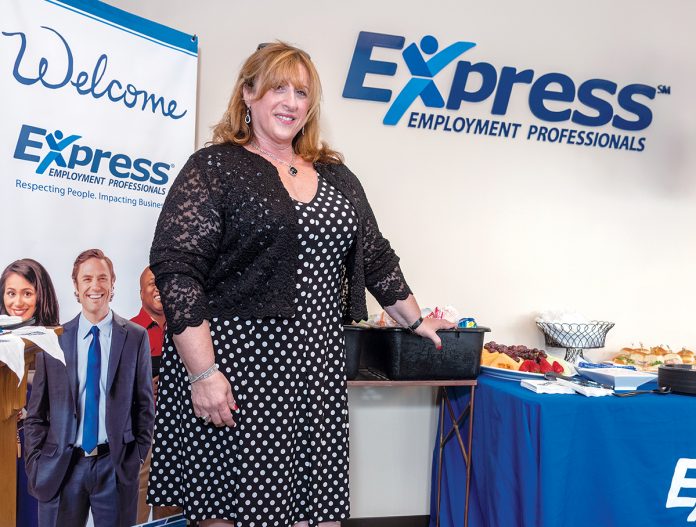 Liliana V. Dolan | Express Employment Professionals | 115 Jefferson Blvd., Suite 5, Warwick
The pitch: Express Employment Professionals offers 24-hour service to clients seeking permanent and temporary staffing.
Years in business: 20
Employees: Three "core" staff; 150 temporary employees
Cost to obtain franchise: $35,000 initial franchise fee; $130,000-$150,000 total investment
Before opening franchise: Dolan worked as an office manager for a law firm in Providence before beginning her own staffing agency, called Temporarily Yours, out of her home office in 1998. Her business then became Express Employment Professionals – Warwick in 2008.
Reason for opening: Dolan said her business is all about customer service and offering individuals who are struggling with employment to get back on their feet and provide for themselves and their families.
"We were heavy into medical and legal at that time, but since the real estate market crashed, my employer said you need to dive into this business of staffing because the colors are not looking well here for real estate. So, I did. And how God makes things happen for me, these two people from Oklahoma City came knocking on the door, saying, 'Why don't you take this little company of yours and make it national?' Here I am, celebrating 10 years with Express Employment. I took a small company called Temporarily Yours and made it national, and it was the best decision I ever made."
"My husband said, 'Why not open up your own agency.' He built this beautiful office in my home and I put an ad out there and started with one temp [employee]. Between her and I, we would go office to office. Someone would start calling, 'I need help' and I would start recruiting. So, it started out in my home."
"I was born in New Jersey and my parents were immigrants who settled in Rhode Island. My children went to school in Smithfield and La Salle Academy. My husband was an employee with Benny's for 33 years before he died [in 2010]. Rhode Island is my home."
"We're more than just an agency to them. The little things we do for our veterans, if we have an associate that's a veteran or is handicapped, we like to provide more of a home-sense for our associates. We kind of make everybody feel at home and we give them hope."