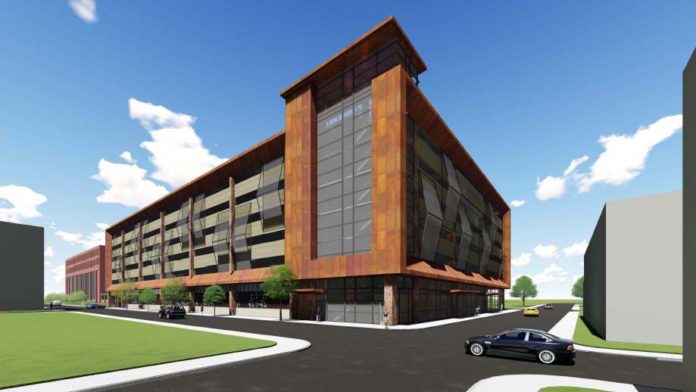 PROVIDENCE – Initial architectural renderings for the Garrahy Courthouse parking garage were unveiled April 10, revealing a precast concrete exterior that will be clad in a rust-colored metal alloy and ornamental metal screens.
The pre-application design and site plan for the 1,250-space garage were reviewed briefly by the Providence Downtown Design Review Committee.
Its members expressed worry at a variety of elements, including a planned 3-foot overhang of the building, over a public sidewalk, its dimensions and the lack of retail or pedestrian-friendly site lines at street level.
The project, put forward by the Rhode Island Convention Center Authority, will provide parking for judges, courthouse visitors and tenants in the adjoining Interstate 195 Redevelopment District. The architect is Vision 3 Architects.
According to Vision 3 senior associate Joseph M. Caldeira, 44 of the 1,250 parking spaces would be reserved for the judges, and located in a secured portion of the lower level of the garage. Another 900 will be reserved for tenants of the Wexford Science & Technology innovation campus, which is expected to be developed on an adjoining site. Another 100 spaces will be used by tenants at the Waldorf Capital Management apartment buildings, which are being built along Chestnut Street.
The six-level garage has a length of 380 feet, and would occupy the space now covered by surface parking behind the Garrahy Courthouse, at Clifford, Friendship and Richmond streets.
"Our challenge in [design] was how do you create an aesthetically pleasing parking garage that's 386 feet long, by 176 feet wide," Caldeira said. "It's a big block. Our approach was … to develop a building that is distinctive, and establishes a more progressive aesthetic that will support the I-195 District … and complement the surrounding historical context."
Design Review Committee members were critical of several aspects of the initial look, including the absence of street-level retail on Friendship and Clifford streets, which is a requirement of the city's zoning. The project would need a variance from the zoning requirements for that.
In addition, members said the vertical mesh screens, meant to break up the mass of the parking levels of the building, weren't working.
Mary MacDonald is a PBN staff writer.