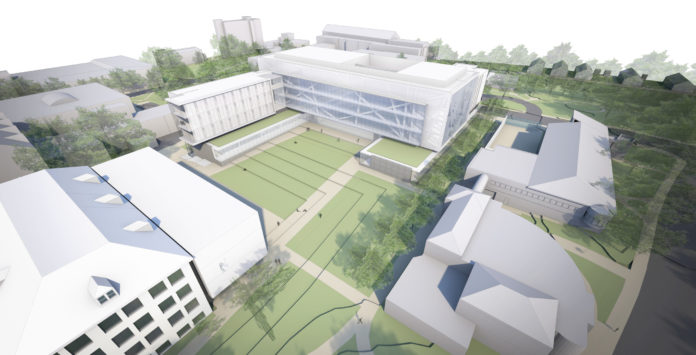 SOUTH KINGSTOWN – A groundbreaking ceremony will be held Monday afternoon at the University of Rhode Island for its new $125 million engineering complex.
The 190,000-square-foot complex was funded by a bond issue approved by Rhode Island voters in 2014 and is the largest construction project in URI history, according to information from the university.
The project, considered phase one of three, involves the construction of a center for the College of Engineering with modern teaching and research facilities on URI's campus as well as renovations to existing structures located around the Engineering Quad. Funds also will be used to demolish several outdated engineering buildings constructed in the 1950s and 1960s, including Crawford Hall, Gilbreth Hall, Kelly Hall and Annex, and Wales Hall.
This phase is expected to be completed in 2019.
Phase II of the engineering complex project involves the renovation of and an addition to Bliss Hall, built in 1928 and home of the College of Engineering.
Last November, voters approved another bond referendum for $25.5 million for Phase II, and $20 million to fund a university-affiliated Innovation Campus program to establish one or more innovation campuses in the state.
The ceremony is scheduled to take place at 2 p.m. at URI's Kingston campus.
Gov. Gina M. Raimondo is expected to attend, along with URI President David M. Dooley; Raymond Wright, dean of URI's College of Engineering; Michael Brandmeier, president and CEO of Toray Plastics (America) Inc.; and Kalvin Cho, a sophomore in URI's international engineering program, double majoring in civil engineering and Chinese.
Chris Bergenheim is a PBN staff writer.