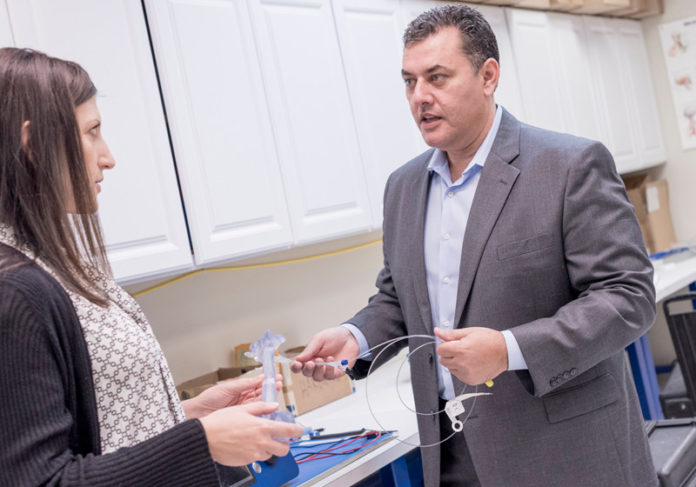 Nabsys back in business, Carousel Industries of North America Inc. acquires Atrion Inc., GE Digital opens in Providence, Towerstream Corp. is delisted from the Nasdaq and Swipely gets a new name – Upserve.
These were some of the biggest technology stories in 2016, a year that also saw Canton, Mass.-based Reebok collaborate with footwear-component supplier AF Group in Lincoln to create a new way of making sneakers that leverages 3-D drawing by using a proprietary liquid material.
In March, Nabsys reopened in its Clifford Street office in Providence after completing a financial restructuring and returning to its original focus – to develop breakthrough technology for genetic analysis.
The company's return was led by founder Dr. Barrett Bready, who brought with him members of the original technical leadership team. Bready had left the company in 2014, after serving as CEO since 2005.
"It's great having a cutting-edge life sciences company operating in a part of Providence where they're trying to develop a life sciences cluster," Bready said at the time.
In June, Exeter-based Carousel announced plans to acquire Warwick-based Atrion, a move that one of the CEOs said would create the largest information technology company in the state. The acquisition closed in October, terms undisclosed. Atrion is now known as Atrion, A Carousel Co. The combined company has approximately $525 million in annual revenue, and roughly 450 employees.
Rhode Island also scored a major coup when it landed a GE Digital location.
Providence had been discussed as a potential site for General Electric Co.'s new headquarters, but the Fairfield, Conn.-based company opted to move to Boston instead. Still, the persistence of Gov. Gina M. Raimondo paid off, and the company chose Providence for a GE Digital location, with plans for up to 100 employees.
In November, Towerstream, based in Middletown, was delisted from the Nasdaq after a year of warnings to improve its stock price and "equity deficiency." Effective Dec. 1, the wireless communication services provider began trading on the over-the-counter venture market. The company said the move would not affect operations, adding it has approximately $12 million in cash and recently reduced its long-term debt by $5 million.
Swipely in March announced its name change to Upserve to better reflect its mission. Two months later, the Providence company, which specializes in management-assistance technology for restaurateurs, acquired Breadcrumb from Groupon, expanding the company's reach to more than 6,000 restaurants nationwide.
Providence-based ShapeUp, a provider of corporate well-being solutions, was acquired in Februry by Virgin Pulse, part of Sir Richard Branson's Virgin Group. ShapeUp founder and CEO Dr. Rajiv Kumar said the company's Providence and Boston locations will remain.
Ximedica, the Providence medical-device company, partnered with Cambridge MedSpace in an effort to support health care technology innovators in the Boston-Cambridge area. Ximedica also acquired Accel Biotech based in Los Gatos, Calif., for an undisclosed amount, to further its work in the in vitro diagnostics, life science laboratory instruments and disposables segments.
And, over the summer, East Providence-based IlluminOss Medical Inc. completed enrollment in its first U.S. clinical trial of its IlluminOss System, a minimally invasive system to repair bone fractures. •