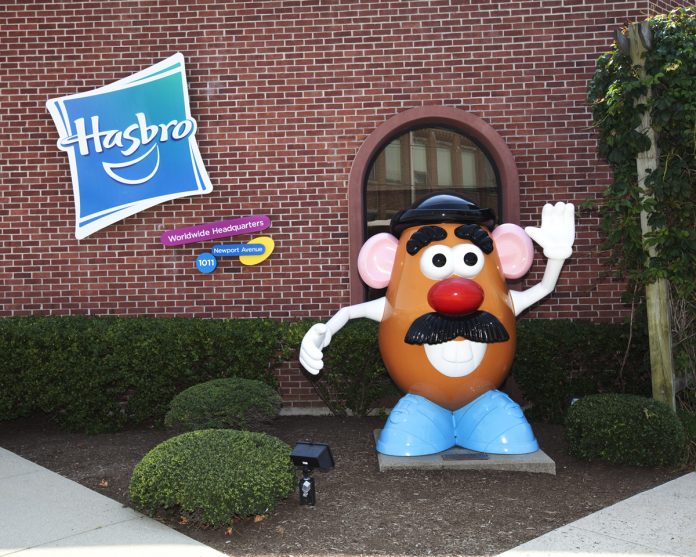 PAWTUCKET – Toy and entertainment producer Hasbro Inc. reported net income in the third quarter of $263.9 million, a decline of 0.6 percent, or $2.06 per diluted share, even as revenue for the three-month period fell 12.4 percent to $1.6 billion. The company cited lost revenue from the bankruptcy of Toys R Us across global markets as well as specific "changing consumer shopping behaviors" in Europe for the significant drop in revenue.
"The global Hasbro team is effectively managing our business forward through a very disruptive year," said company Chairman and CEO Brian Goldner. "The lost Toys R Us revenues are impacting many markets around the world, notably the U.S., Europe, Australia and Asia. The volume of product liquidated in the second quarter had a near-term impact on the third quarter sell-through and shipments."
On a year-over-year basis, the company reported that the federal tax reform package passed at the end of 2017 added $17.3 million, or 14 cents per diluted share, to net income. Hasbro also noted the foreign exchange rates had a negative impact of $32 million, or 2 percent, on third-quarter revenue.
The continuing uncertainty as the result of the Toys R Us situation and other macro factors is causing Hasbro to trim staff, with expectations that it will record severance and restructuring charges of roughly $50 million to $60 million in the fourth quarter, steps that it expects will generate roughly $30 million to $40 million in annualized pre-tax savings by 2020. Friday the company said it expects to reduce its global workforce by a "single-digit percentage," according to Bloomberg News.
One bright spot for the Pawtucket-based company was a 45.2 percent increase in entertainment and licensing revenue to $84.8 million in the third quarter. Hasbro expects the holiday season release of "Bumblebee," the latest in its Transformers brand movies, will continue to support its brand-based, multi-platform approach.
Net revenue by region showed that while the United States and Canada fell behind the same 2017 period, the rest of the world presented more significant drag on the company:
U.S. and Canada – revenue of $924.2 million, decline of 7 percent
Europe – revenue of $331.4 million, decline of 29 percent
Latin America – revenue of $145.7 million, decline of 16 percent
Asia Pacific – revenue of $83.6 million, decline of 14 percent
A breakdown of revenue of brand portfolio showed a significant decline in partner brand revenue:
Franchise brands – revenue of $847.7 million, decline of 5 percent
Partner brands – revenue of $305.8 million, decline of 37 percent
Hasbro gaming – revenue of $280.8 million, unchanged
Emerging brands – revenue of $135.3 million, an increase of 2 percent
The earnings report has not been well-received so far on Monday, with the company stock trading at $93.13 at 11:45 a.m., a decline of 5 percent on the day.
In an earnings report with analysts, Goldner noted that demand for its products from retailers for the holiday season was high and did not follow previous patterns of demand. As a result, according to CNBC, Goldner said that "we were unable to meet all of the demand with the quarter," with the result that "approximately $50 million of U.S. third-quarter orders shipped in the first week of the fourth quarter."