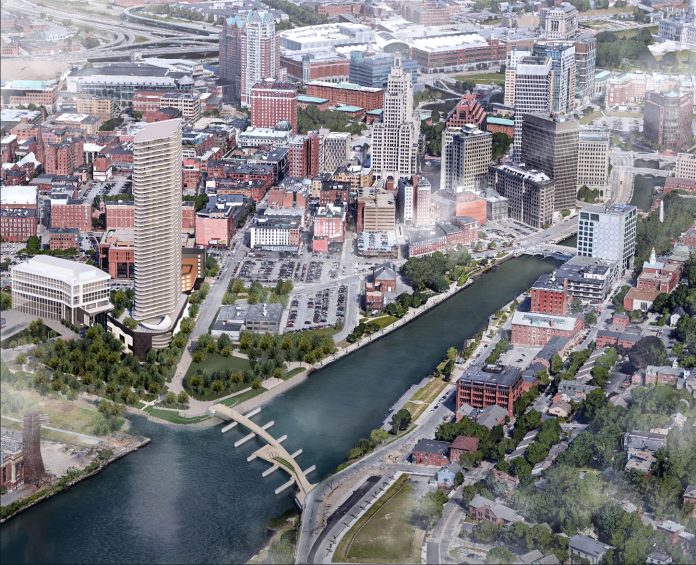 PROVIDENCE — The Fane Organization's proposed residential tower in Providence moved forward to City Council consideration Thursday with a recommendation for approval.
The vote by the council's ordinance committee was divided 3-1-1, after a brief meeting in which members shared their support for the project, or alternately tried to sway others to vote against.
The proposed building, known as the Hope Point Tower, would scale 46 stories on a site overlooking the Providence River downtown. The parcel is in the Interstate 195 Redevelopment District.
The committee was considering whether the zoning change needed for the building — a change that would authorize a height of up to 600 feet on the property — was consistent with the city's comprehensive plan. The current zoning, updated just four years ago, would allow a building of only 100 feet.
Initially, the same ordinance committee had voted to recommend a denial of the project. But it reviewed it for a second time after a public hearing last month, in which the developer personally advocated for it.
Pursued by Jason Fane, president of the New York-based The Fane Organization for much of the past two years, the tower could provide needed construction jobs and involve more than $340 million in construction costs, according to supporters.
Council members who voted in favor on Thursday were Terrence Hassett, who represents a district that includes parts of the East Side and Smith Hill, and whose tenure ends in late December. Councilwoman Jo-Ann Ryan, who represents Mount Pleasant, and Carmen Castillo, who represents Elmwood, voted for a favorable recommendation.
Voting against was Bryan Principe, who represents Federal Hill, and who is also stepping down from the council in late December. Abstaining was councilwoman Mary Kay Harris, who said later she needed more time to consider her position.
Hassett, who had initially voted to not recommend the project, said its economic benefits were considerable.
"It's beneficial to the city," he said. "It helps our tax structure."
Councilman Principe argued the recommendation would amount to spot zoning, and send a signal that Providence is willing to be bought.
"It's a matter of location," he said. "It's in an inappropriate site. What's next? Are we going to get a developer who says, 'Let's put a 600-foot building in the middle of Roger Williams Park? It's a great place for people to live'."
The project will now move forward to the full City Council, which has the authority to change the zoning.
Mary MacDonald is a staff writer for the PBN. Contact her at macdonald@pbn.com.