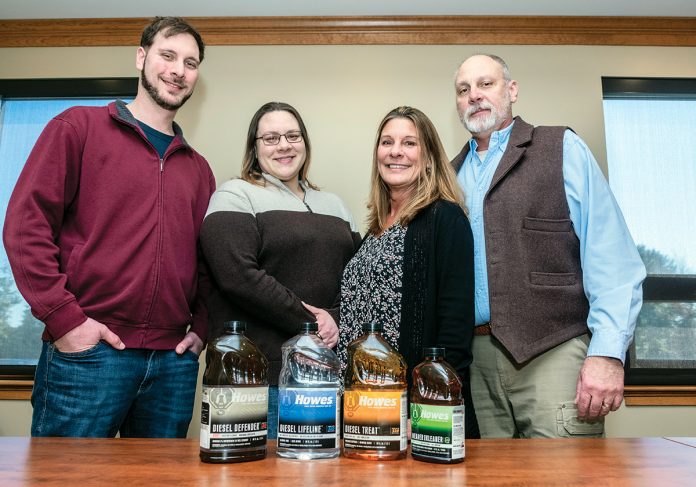 After nearly a century in business, a North Kingstown company that makes and sells lubricants and fuel additives is making changes for the road ahead.
R B Howes & Co. officially unveiled the new look of its products in Louisville, Ky., at the Mid-America Trucking Show, an event attended by 90,000 people, most of them truckers or employees of transport companies, in late March. Along with new labels, a new mascot and new tagline, the company also launched two new fuel additives, Diesel Lifeline and Diesel Defender, increasing its product line to seven.
"I think people seemed very responsive to it, many of our loyal users picked up on the changes right away, and I think it was quite an attention-grabber for people who were less familiar with our products," company co-owner Erika B. Howes said.
She added that part of the motivation behind the facelift was to make it clear that Howes, which is well-known for its diesel-fuel additive, Howes Diesel Treat, sells an array of merchandise.
"This new branding was to identify the fact that we have more than the one product," she said.
Changing the label colors on different products also served to differentiate formulas, Phil Colacchio, the company's vice president of marketing, said.
"Something as simple as color differences on the packaging … a lot of people came up and said, 'Wow, you changed the look.' It was extremely impactful just to show with color the array of products," Colacchio said.
Howes, founded in 1920 by Wendell V. C. Howes, is undergoing another, more gradual change, as Erika Howes and her brother Robert B. Howes II assume ownership from their parents, Robert B. Howes and Deborah L. Howes.
The siblings' preference for different aspects of the business has resulted in both creative and practical innovation, said Robert Howes II, who spent five years developing the formula for Diesel Lifeline, one of the company's newest offerings, and two years testing it.
While Wendell Howes was known for tinkering with formulas, his son propelled the company into the national market in the mid-1980s by drawing on his advertising skills.
"He was a big branding-type person," Robert Howes II said of his grandfather, the company's second owner. "As the newest generation, I take on Wendell's interests, and Erika is heavily into the marketing thing, and we have both in the same company at the same time. It's a neat thing for our future; we've never had that before."
The company, with manufacturing sites in Kansas and Toronto, takes pride in turning out products that are free of alcohol and harmful solvents, both of which can corrode truck systems. The lack of alcohol on the ingredients list was one reason why it took seven years to perfect Diesel Lifeline, a product that re-liquifies gelled diesel fuel and clears ice from frozen fuel filters.
"It's hard to get that end result without alcohol," Robert Howes II said.
Aside from adhering to standards that the company says many of its competitors don't, staying on top of ever-evolving fuel formulas and government regulations remains a challenge for the business.
The advent of low-sulphur diesel, followed by ultra-low-sulphur diesel, significantly shook up the market, Robert Howes said.
"It's just keeping up with fuel technology and continuing to produce the additives that will have a real impact on the fuels," he said.
Moving forward, the business plans on marketing to younger truck drivers, as well as increasing the number of women drivers, Deborah Howes said.
OWNERS: Robert B. Howes, Deborah L. Howes, Erika B. Howes, Robert B. Howes II
TYPE OF BUSINESS: Lubricants and fuel additives
LOCATION: 60 Ocean State Drive, North Kingstown
EMPLOYEES: 22
YEAR ESTABLISHED: 1920
ANNUAL SALES: WND
Elizabeth Graham is a PBN staff writer. Contact her at Graham@PBN.com.