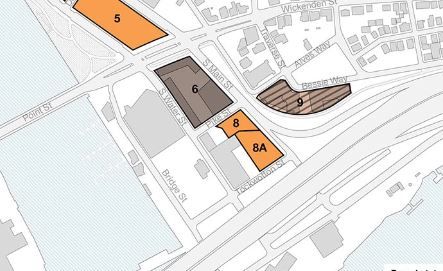 PROVIDENCE – A 10-story tower of luxury, owner-occupied condos or a financial service firm's new corporate headquarters.
These were the competing projects for a swath of prime riverfront real estate presented to the I-195 Redevelopment District Commission Wednesday. The pitches mark the first signs of progress toward redeveloping the Fox Point properties known as "Parcel 8" and "Parcel 8A" flanking the highway at the intersection of South Main and Pike streets.
A portion of the riverfront real estate was one of the first pieces of former Interstate 195 land intended to be redeveloped, with a seven-story mixed-use development project approved by the commission in 2015, PBN has reported. However, the project put forth by Royal Oaks Realty LLC never materialized, and the land has remained vacant even as other construction has cropped up around it.
Each of the Providence development firms – Churchill & Banks Co. and D+P Real Estate Inc. – made their pitches for why their respective projects were the best use for the prominent downtown gateway property, with one stressing the benefits of owner-occupied housing amid a sea of rental units and the other selling a "once-in-a-decade opportunity" to bring a new corporate headquarters to the capital city.
While the presentations included opportunity for public comment, only a single question – about electric vehicle charging stations – emerged from the dozen community members who attended the meeting. However, Commission Chairman Robert Davis stressed that public input will continue to be a part of the process, both in the choosing of a preferred developer and later on in the approval of a more concrete plan and design.
"Even when a selection is made, that isn't the end to public input," Davis said. "I could say it's really the beginning."
Which of the two projects for the combined 0.86-acre land area the commission will put its weight behind will be "taken up more substantively" in August, Davis said.
A familiar face led one of the two presentations: Richard Baccari, who is listed as the principal of Royal Oaks Realty, is also behind the "Churchill Tower" project from Churchill & Banks.
In an earlier interview on Wednesday, Baccari said he was forced to give up on the prior development plan because of "trouble making the numbers work."
His new pitch seeks to make the most of the prominent land area by building a 10-story, mixed-use building with 52 "luxury," for-sale condominiums above first-floor retail and office space, according to documents submitted to the commission. There would also be a three-story parking garage, a restaurant and "multiple" rooftop decks. The $84 million project is estimated to create 1,155 construction jobs and 150 permanent jobs.

Baccari touted the owner-occupied condos, which will sell for $750,000 to $1 million apiece, as a unique and in-demand feature amid the sea of rental units in nearby projects. The 215 additional parking spaces, which will flow into Churchill & Bank's adjacent South Water Street property, also fills an underserved need in a highly congested area, he said.
The second project comes from Providence firms D+P Real Estate and Truth Box Architects, the former of which has secured approvals to build a mixed-use project with a grocery store on another piece of I-195 land along South Water Street.
D+P's project centers around a 65,000-square-foot corporate headquarters for an unnamed financial services firm that plans to bring 150 jobs to Providence, according to Jordan Durham, D+P's principal and founder.
Durham said it would be the first major company to locate headquarters in Providence since Blue Cross & Blue Shield of Rhode Island opened offices downtown in 2009, calling it a "once-in-a-decade opportunity." 
The $50 million project would also include 69 residential units, a quarter of which would be reserved as below-market-rate and "workforce housing," and a 169-space parking garage, according to the documents submitted to the commission.
The two projects were the only ones submitted in response to a March public bidding process led by the commission, said Commission Executive Director Caroline Skuncik. The request for proposals was one of the first from the commission to set forth specific development requirements, including a $3 million minimum purchase price and a $50,000 annual contribution to help pay for park maintenance in the district. Projects were also required to have at least 25,000 square feet of commercial space.
(UPDATES throughout, including comments from I-195 Redevelopment District Commission Chairman Robert Davis and further details about the proposed projects.)
Nancy Lavin is a PBN staff writer. You may reach her at Lavin@PBN.com.

Want to share this story? Click Here to purchase a link that allows anyone to read it on any device whether or not they are a subscriber.