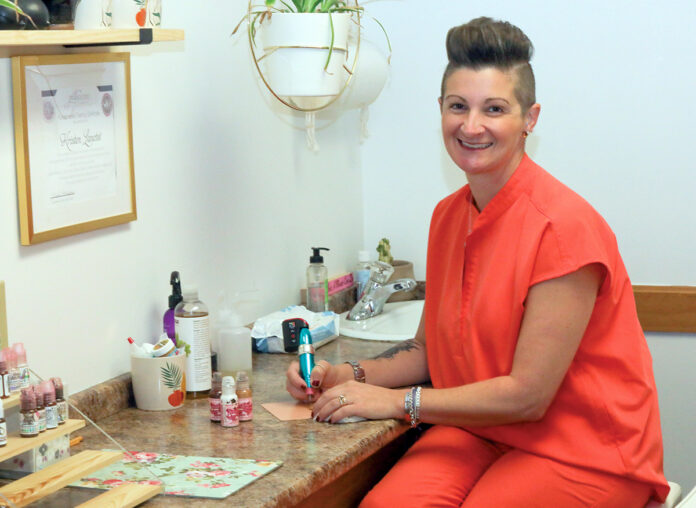 For the first year after her double mastectomy, all Debra Turilli could think about was how happy she was to be alive.
She had been diagnosed with breast cancer in 2018 and a few months later underwent the six-hour procedure to remove her breasts. There was no space in her mind for anything other than relief. But as her life returned to normal, another thought took shape.
She wanted her breasts back.
"For me, this has nothing to do with vanity," said Turilli, 69, who is a special-needs teacher in Cranston. "They didn't look the same. That was what it was. I wanted it to look like I had breasts that looked like breasts."
Turilli had breast reconstruction surgery, but that was not enough. It took another two years, but she got her wish in the summer of 2022 when she had her final session with medical tattoo artist Kristen Lanctot. One hour and $600 later, Turilli walked out of her studio with nipples.
"Unless you touch my breast, you have no idea it's a tattoo," she said.
Making people such as Turilli feel whole again is Lanctot's passion. A surgical technician with over 20 years of experience working with breast cancer patients, Lanctot remembers seeing a woman with nipple tattoos for the first time. She was astonished.
"I was just so amazed that there was someone out there that did this job," Lanctot said. "I was determined to be that person."
The next few years were a whirlwind of research, training and endless practice. She attended the Sauler Institute of Tattooing outside Philadelphia in 2020 along with three other beginner artists and received a certificate in "3D Nipple and Areola Tattooing and Scar Camouflaging." Lanctot went into the course with no artistic background, but by the end of the week she felt as if she had been tattooing nipples her whole life.
She did not stop there: after the course, she continued practicing every day, tattooing silicone skin piling up in her office. Then, toward the end of 2020, she received her tattoo artist license in Rhode Island and within a few months she was inking clients.
Now she tattoos patients from Mindful Aesthetics LLC, a North Smithfield health and beauty shop, while still working part time as a surgical technician at Women & Infants Hospital.
"I am here with you on this journey from start to finish," Lanctot said. "A lot of the women I've done, I've been with them at their mastectomy … I've been with them for their entire journey."
Turilli heard about Lanctot's work from the plastic surgeon that performed her reconstruction. At first, she was hesitant, fearing tattooing would be long and painful. Eventually, she met Lanctot for a consultation.
"It was all about me and what was making me comfortable," Turilli said. "[Lanctot is] doing this for us, not for her."
Her first session with clients, which usually takes up to two hours, includes a consultation on finding the right size and pigmentation for the tattoos, answering the clients' questions, putting them at ease and eventually the actual tattooing. Often clients return for another session for follow-ups and touch-ups.
Since officially offering her service in May 2021, Lanctot has seen clients mostly from Rhode Island and some from Connecticut and Massachusetts. She says she usually works with three or four clients a week.
Lanctot has flat fees, with one tattoo costing $450 and two $600.
Most insurance companies either do not cover clients' expenses or only partially cover them, Lanctot says, usually examining requests on a case-to-case basis.
"It is not easy," Lanctot said. "It is another struggle that they have to go through that they shouldn't have to go through."
Last May, Lanctot became a contracted provider for Neighborhood Health Plan of Rhode Island, a collaboration started after a Neighborhood member requested her services be covered.
"Speaking to Kristen and thinking of the fact that breast cancer affects both men and women and that she's able to offer services that help them with emotional and physical healing, I felt we needed to bring it on and offer it to our members," said Julie Simone, a professional contract administrator at Neighborhood Health.
Now Neighborhood covers Lanctot's services – either partially or entirely – across all of its plans.
In a little over a year, Lanctot has collected countless stories of connections she has made with clients.
There is the woman who started crying as she told Lanctot that her husband was leaving her. Lanctot knew that the client was not only there for the tattoo but to "let everything out." And a couple of months later, the same client went on her first date, something she told Lanctot was only possible because of the confidence the tattoos helped give her.
Not all of Lanctot's clients are breast cancer survivors: she works with transgender clients, people who have had breast reductions and those suffering from Poland syndrome, which can affect the appearance of breasts and nipples.
A transgender man told Lanctot his new tattoos helped him look at himself in the mirror for the first time.
For months after her tattoo appointment, Turilli was amazed. She recalls how she would walk around her house, suddenly stopping in front of a mirror and pulling up her shirt. "Look at this," she'd tell her husband and they'd laugh together.
"I never thought of it as the last piece of reconstruction, but it is," Turilli said. "It's the last piece of the puzzle."

Want to share this story? Click Here to purchase a link that allows anyone to read it on any device whether or not they are a subscriber.