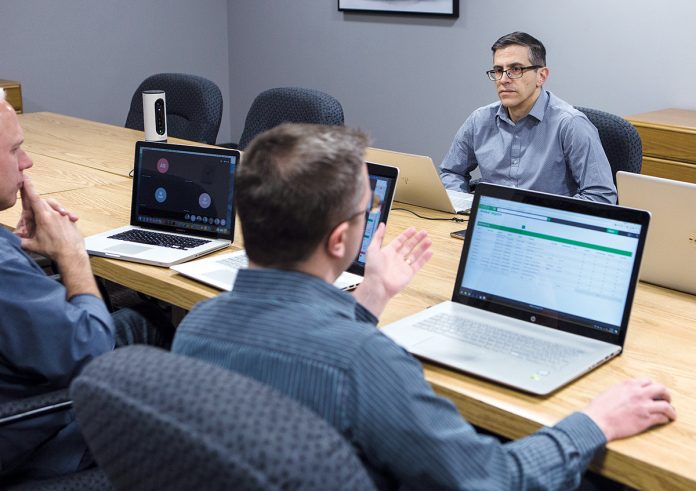 CHIEF INFORMATION/TECHNOLOGY OFFICER, SMALL PRIVATE COMPANY | Randall Jackvony, Trilix Inc.
---
Randall Jackvony, principal of technology and client services for business technology consulting firm Trilix Inc., remembers his lightbulb moment. It came after a constituent's phone call about trash delivery when he served on the Cranston City Council.
"An elderly woman called to talk about the trash bins being left in the road. At the end of the call she said, 'Thank you for your help, I appreciate it,' " Jackvony explained. "I hadn't done anything yet, but I realized it's about giving people a chance to talk about things. For us, as consultants, it's about hearing the real story."
Jackvony leads technology and client services for the 11-person firm in Cranston that launched last May. Trilix was able to hit the ground running thanks to its staff of senior-level leaders, many of whom have worked with each other previously. They began with a plan focused on workplace excellence and customer success. They also liked working with each other.
"I was working at another company when Randy called me to meet," said Lead Architect Scott Cornell. "As soon as I knew he was looking to fill a position, I already made up my mind to join. There are not many former managers I would say I could do that with."
Cornell said Jackvony has the ability to listen to both sides of the information technology world, customers and staff, and understand their needs.
"He does not bring his ego to the table and he respects people's views and ideas," Cornell explained.
"Sometimes we tech people can get caught up in the technology," said Jackvony. "We need to see it as an accelerator for the business, not the reason someone does the job. … We need to get to the heart of the matter and ask, 'What are we trying to achieve?' "
Still, once technology solutions are necessary, Jackvony and his team are eager to make progress. A certified scrum master, Jackvony leads project- and software-development meetings intent on beginning quickly and making adjustments along the way for changing circumstances, results and scale. Jackvony prefers scrum – a methodology that allows a team to self-organize and make changes quickly – as a way for all stakeholders to see progress, as well as have a hand in the development. The approach is distinct from previous methods where much of the time is spent planning without development, he said.
Jackvony visits clients' sites and interacts with the people using the technology.
"You get to see what the process is, as opposed to how leaders say it's supposed to work," he explained. "Sometimes the floodgates open, and we can prioritize and help make change."
In order to do that, Jackvony created a workplace-excellence matrix that outlines ways to help clients make those changes. Jackvony calls it a "culture of innovation," and Trilix members practice what it preaches, even on the small things, such as creating a computer application to help monitor feeding of the firm's two beta fish.
Jackvony initially studied history and education, then worked in a pharmacy before returning to school at Carnegie Mellon University for a master's degree in information technology.
"I'm glad I went that path," he said. "Getting that experience has lasted throughout my career."
Jackvony, who served on a state curriculum review committee, said he understands the growing need for technology education. With that in mind, he and his Trilix colleagues mentor people looking to scale up in the tech industry or learn new skills to move them into new professional arenas.
"I find that the most rewarding thing is to change someone's life for the better," he said. The effort is not entirely altruistic. "An added benefit is, as we grow, it's a source for finding talent that we have worked with before."