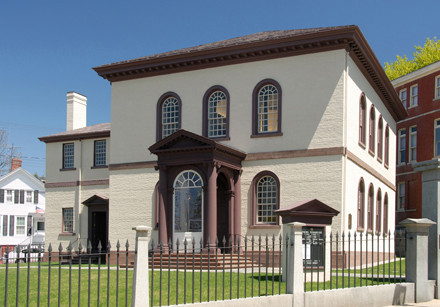 PROVIDENCE – R.I. Attorney General Peter F. Kilmartin filed an amicus brief with the U.S. Supreme Court Friday, asking the court to review and reverse a decision made by the First Circuit Court of Appeals in the case of Jeshuat Isreal v. Congregation Shearith Israel regarding the ownership of the Touro Synagogue in Newport.
Ownership of the synagogue came under dispute following the Congregation Jeshuat Israel of Newport's attempts to sell ceremonial finials to the Museum of Fine Arts Boston for $7.4 million.
Originally, in District Court, the Newport congregation won the suit, retaining ownership (or, potentially, gaining ownership) of the synagogue and its property. The decision was reversed in the First Circuit Court of Appeals, removing ownership from the Newport congregation and granting it to the New York congregation.
Touro was originally built by the second-oldest Jewish congregation in the nation, established in Newport four years after Congregation Shearith Israel began in New York. But the building fell into disrepair after the city's last Jewish resident left in 1822. At that point, ownership of some items, including the ceremonial bells, transferred to the New York group – which had originally filed in District Court that it owned the property and had the authority to evict the Newport congregation.
In 1903, a revived Newport congregation signed a $1-per-year lease to rent Touro from Congregation Shearith Israel.
Kilmartin argues in his amicus brief that the reversal of the decision went against Rhode Island law, specifically in relation to the creation of a charitable trust. Rhode Island law at that point of the 18th century barred the incorporation of religious institutions. As a result, the brief argues, the will of Jacob Rodrigues Rivera, one of the three leaders of the community listed as trustees and owners of the synagogue, made clear their intention to hold the synagogue in perpetuity "for the sole use, benefit and behoof of the Jewish Society, in Newport, to be reserved as a place of public worship forever."
The District Court, as well as Kilmartin, argued that despite lacking a trust on the deed itself, that Rivera's will constituted the creation of a charitable trust by Rhode Island law.
The eventual transfer of some property to the New York congregation, therefore, Kilmartin argued, could not supersede the previously formed trust – which by Rhode Island law would extend into perpetuity.
The failure to consider the will in the First Circuit Court of Appeals, Kilmartin argued, yielded an incorrect legal decision. Furthermore, Kilmartin noted, the decision would have functionally eliminated the existence of a charitable trust, which is another violation of Rhode Island law.
Kilmartin concluded by asking the Court to "reverse the decision of the First Circuit, or, alternatively, to summarily reverse," advocating for a ruling in favor of the Newport congregation.
Chris Bergenheim is the PBN web editor. Email him at Bergenheim@PBN.com.