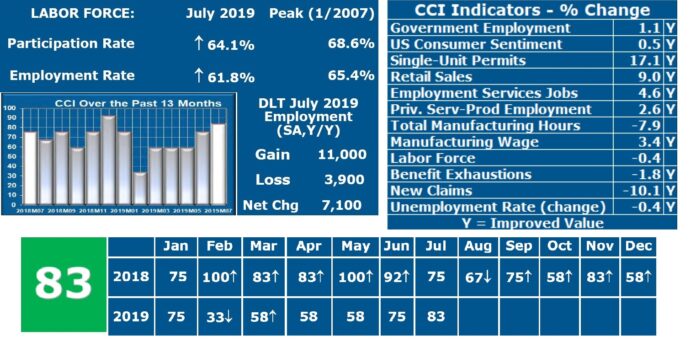 PROVIDENCE – Rhode Island's economy hit an "upbeat note" in July, continuing improvement shown in the second quarter of 2019, according to University of Rhode Island economist Leonard Lardaro on Monday.
The current conditions index for the Ocean State was 83 in July, eight points higher than one year ago. A CCI value below 50 signals contraction while a value above 50 reflects expansion. July's value was the highest of 2019 and it was the first month of the year to post year-over-year improvement.
"It appears that Rhode Island's economy has now shifted into at least second gear after remaining stuck in first gear for far too long," wrote Lardaro.
Ten of 12 indicators that make up the CCI improved year over year, including four of five leading indicators, according to the report.
"It is at least safe to say that our positives are once again gaining on our economic negatives," said Lardaro, who noted the state's labor force increased month to month for the first time since January.
However, the decline in the state labor force year over year and the decline in manufacturing hours in the state were the two indicators that had worsened since July 2018.
In the report, Lardaro also noted the declining unemployment rate in the state was lower than the national unemployment rate, but said the improvement was largely "noise," given an extended decline in the state labor force and what he determined to be underperformance in resident employment.
"Sadly, this statistic is touted as the sole indicator of our state's economy by state government," Lardaro wrote. "Perhaps now that a number of economic indicators are improving and our state's economic momentum appears to have regained some strength, our elected officials can stop hiding behind the misleading unemployment rate."
July CCI indicator changes year over year:
Government employment increased 1.1%
United States consumer sentiment increased 0.5%
Single-unit permits increased 17.1%
Retail sales increased 9%
Employment services jobs increased 4.6%
Private service-producing employment increased 2.6%
Total manufacturing hours declined 7.9%
The manufacturing wage increased 3.4%
The state labor force declined 0.4%
Benefit exhaustions declined 1.8%
New claims declined 10.1%
The unemployment rate declined 0.4 percentage points

Want to share this story? Click Here to purchase a link that allows anyone to read it on any device whether or not they are a subscriber.