For years, Rhode Island's business community has been raising alarms over rising electricity costs and their impact on our ability to hire more workers and compete with other states.
Rhode Island commercial and industrial customers typically pay among the highest electricity rates in the country. In fact, for industrial customers, our state in January ranked first for most-costly electricity in the continental U.S., and behind only Hawaii in the entire U.S. at 17.12 cents per kilowatt-hour.
For commercial customers, the situation is not much better – they pay 18.39 per kilowatt-hour, behind Alaska and Hawaii only. For both classes of business customers, electricity rates rose by more than 10% in the last year alone.
Fortunately, Rhode Island is poised to finally give the business community more tools to fight our rising electricity bills during this legislative session.
On behalf of the Rhode Island Manufacturers Association and The Energy Council of Rhode Island, we write to urge businesses across the state to support legislation (H-5775 and S-0760) that will allow commercial and industrial companies to participate in off-site renewable-energy generation through what is called "virtual net metering."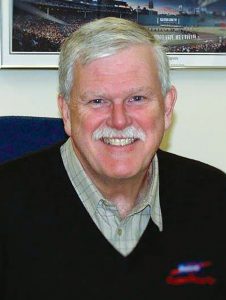 Virtual net metering is a policy construct that allows National Grid Rhode Island customers to access renewable-energy sources such as solar, without having to put solar panels on their property or their roofs. Instead, the solar-generation equipment is located off-site, but the customer receives solar-generation credits that net against their energy bill (hence the name "virtual net metering") just like a customer with rooftop or on-site solar does.
Unfortunately, Rhode Island businesses are unable to access virtual net metering, which would help reduce their electricity bills and allow them to do their part to fight climate change through renewable-energy use. Under current Rhode Island statute only some nonresidential customers, such as municipalities, universities, schools, hospitals and nonprofits, can participate in virtual net metering. This legislation would change that.
The overarching goal of the legislation is to help Rhode Island achieve its clean-energy goals, while at the same time retain and attract new commercial and industrial customers seeking to reduce their energy costs and meet their sustainability commitments. That's critically important to our organizations and to all businesses in the state. These are pro-business pieces of legislation that would help put Rhode Island on equal footing with nearby states.
[The legislation] would help put [R.I.] on equal footing with nearby states.
For example, Massachusetts has one of the most successful virtual net-metering programs in the country with more than 300 megawatts of commercial virtual net metering – and Massachusetts still has lower electricity rates than Rhode Island. To date, at least 15 states have virtual net-metering programs that allow commercial and/or industrial customers to participate.
Let's keep in mind, too, that commercial and industrial customers already pay into the state's clean-energy programs through a surcharge on their bills – but they can't access virtual net metering like others can.
The business community needs tools to fight the high electricity rates that commercial and industrial customers currently pay. The legislation will allow the lifeblood of the state's economy – the private sector – to help manage these high costs. The savings garnered from net metering could be reinvested into other areas of operations, such as new- equipment purchases, workforce expansion and additional training.
The fate of this issue is now in the hands of the state legislature, and we hope our state representatives and senators will act before the session ends later this month. We hope the entire business community of Rhode Island will join our memberships in supporting this legislation.
Doug Gablinske is executive director of nonprofit TEC-RI. Dave Chenevert is executive director of the Rhode Island Manufacturers Association.