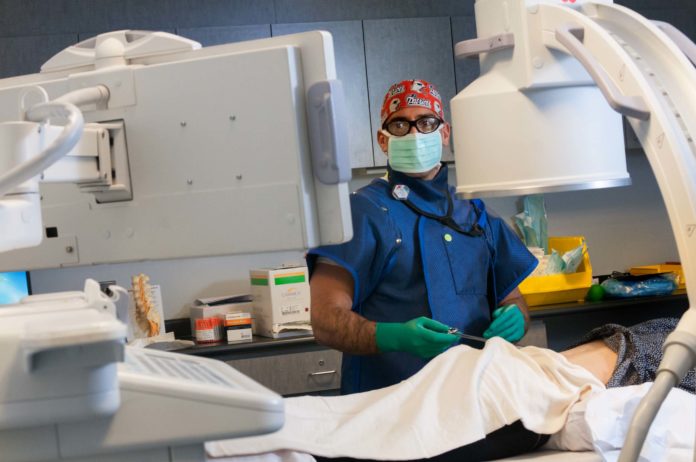 NEWPORT – The Comprehensive Spine Center has expanded to Newport Hospital, making treatment close to home available for residents of Aquidneck Island, South County and nearby Massachusetts.
The new Comprehensive Spine Center location, anchored at Rhode Island Hospital, opened at Newport Hospital Oct. 10.
Patients will be seen by interventional pain specialist and physiatrist Dr. Kyle Silva, neurosurgeon Dr. Jared Fridley and Dr. Alexios G. Carayannopoulos, medical director of the Lifespan Comprehensive Spine Center and division director of Pain and Rehabilitation Medicine in the Department of Neurosurgery at Rhode Island Hospital. Carayannopoulos is also an interventional pain specialist and physiatrist. Services at Newport Hospital will be integrated with the award-winning Vanderbilt Rehabilitation Center.
"Recurring back or neck pain is among the most debilitating of conditions, making it difficult to work or function in daily life," said Crista Durand, president of Newport Hospital. "We're confident this new center will be a valuable resource for the Newport County community and beyond, and we're so excited to be able to bring this kind of cutting-edge, multidisciplinary spine care to Aquidneck Island."
The Comprehensive Spine Center brings together the disciplines of interventional and noninterventional physiatry, pain medicine and neurosurgery – using both medical and surgical approaches – to effectively address pain. The center has the most advanced diagnostic and therapeutic equipment and treatment options available. The cross-disciplinary approach also encompasses behavioral health integration to aid patients in reducing and eliminating opioid pain medications.
Practitioners address underlying causes of pain through treatments that may include:
lifestyle modifications, including physical and occupational therapy
ongoing patient and family education
osteopathic manipulation
a range of interventional procedures from steroidal injections to long-term solutions such as pump therapies or nerve-stimulating devices
Appointments for the Comprehensive Spine Center at Newport Hospital can be made by calling (401) 845-1190.
Rob Borkowski is a PBN staff writer. Email him at Borkowski@PBN.com.