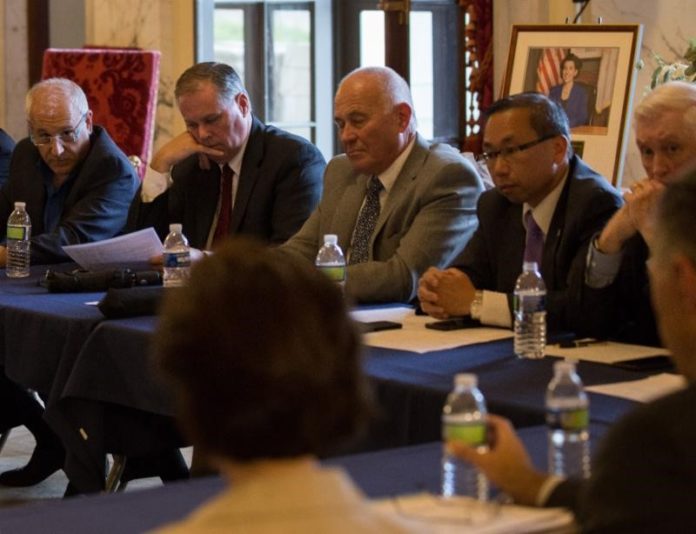 PROVIDENCE – Twenty-five mayors and town managers from across Rhode Island met Thursday with Gov. Gina M. Raimondo to discuss the implications of a continuing state budget impasse.
As a result of the failure of the General Assembly to approve a fiscal 2018 budget, the state aid payments for local schools and government services will be reduced. The first of those payments will be made next week, according to a statement released by Raimondo's office.
In the closed-door meeting, the governor told the community leaders that a monthly school aid payment, a quarterly reimbursement for the car tax exemption and annual payment-in-lieu-of-taxes payments, to be made next week, would be reduced.
The state budget for the fiscal year that began July 1 was not adopted after the state Senate changed a planned reduction in the auto excise tax, and the House speaker adjourned his membership in protest. Although both the House Speaker and Senate President have spoken since, and met at least once, the budget remains unresolved.
Until it is adopted, in whatever form it takes, the state is operating under the fiscal 2017 budget, which provided less in both revenue collections and appropriations.
In education aid, for example, the July school aid payments to local communities will be $1.45 million less than what had been expected this year. If the impasse continues into late August, that gap will grow to nearly $4.6 million, the governor's office stated.
The 25 mayors and town administrators who attended the meeting with Raimondo included Providence Mayor Jorge O. Elorza, Cranston Mayor Allan Fung and Warwick Mayor Scott Avedisian.
Mary MacDonald is a staff writer for the PBN. Contact her at macdonald@pbn.com.