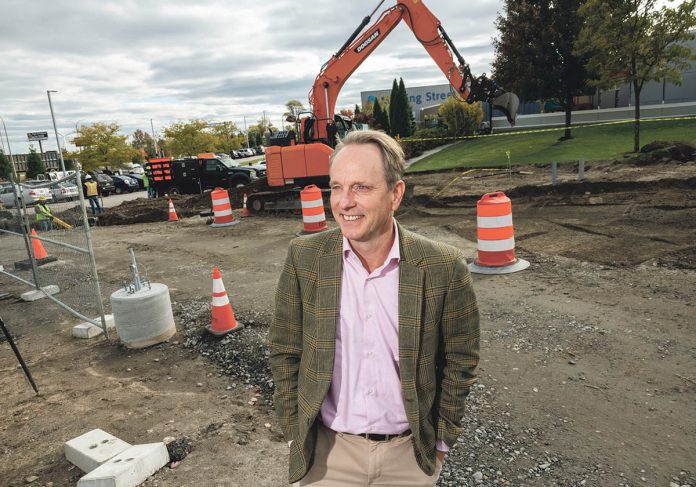 Meeting Street, which provides educational and child-development services, moved onto its Eddy Street campus in 2006, and since then has doubled in size.
The nonprofit outgrew its new home so fast that within two years of the move, the operation was out of space, according to President and CEO John M. Kelly.
Its Rhode Island-based employment has grown along with the services, from 65 in 2006 to 200 full-time equivalents this year, he said.
This year, the campus is visibly growing.
Through property acquisitions made over the years, Meeting Street has added nearly 4 acres to its 8-acre campus on Eddy Street.
It's now completing the first phase of a planned four-part, $14 million expansion. The initial work involves installation of a soccer field and surrounding track for children, as well as additional parking for employees.
The second phase will be the addition of 28,000 square feet to the existing Carter School and Grace School building, which will allow additional classrooms and expansion of high school offerings, which include teaching life skills for students who have severe or profound developmental disabilities.
The classroom upgrades will include state-of-the-art technology for children, not all of whom have disabilities, Kelly pointed out.
Later phases would add a 30,000-square-foot building to the Eddy campus to house the early-childhood services, which are aimed at prenatal to age 5. Once that is complete, Meeting Street would begin the final phase, which would create a more-secure entrance to the building.
Meeting Street is perhaps best known for its work with children who have developmental delays or disabilities, but it also educates and provides services to children without disabilities. In addition to its school-based educational programs and services, the nonprofit works with parents in their homes.
Altogether, it provides services for 5,000 children annually. The mission is to work with children with developmental disabilities, developmental delays and those who are at risk for delays. The latter relates to impoverishment.
"The kids who are at the highest risk for developmental delays are the kids who are born in poverty," Kelly said.
Its K-8 school, the Grace School, is inclusive. For the children without educational hindrances, the benefits of inclusive classrooms are significant, Kelly said.
"First off, they're in a smaller classroom, generally 15 to 18 students," he said. "One of the things that special-educators do really well is they teach to the individual. Now we're doing that with children in general education."
Despite the ongoing expansion, the demand for educational and developmental services is high, Kelly said.
"There is more need out there than anyone can meet right now," he said.
CEO: John M. Kelly
LOCATION: 1000 Eddy St.,Providence
TYPE OF BUSINESS: Nonprofit education, child development
NUMBER OF EMPLOYEES: 200
YEAR ESTABLISHED: 1946
ANNUAL BUDGET: $19 million(fiscal 2019)
Mary MacDonald is a staff writer for the PBN. Contact her at Macdonald@PBN.com.