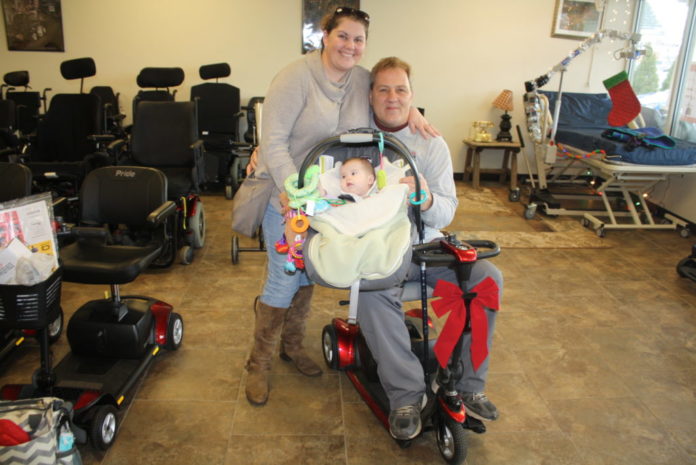 NORTH KINGSTON – Mobility Equipment Recyclers of New England hosted about 50 people for its fifth annual Gift of Mobility event on Dec. 16, donating mobility equipment to 10 people.
Rep. James Langevin, D-R.I., attended the event, as did Andrea Palagi, communication director for Lt. Gov. Dan McKee's office. Contest participants seeking increased independence, their families and community members also attended. Some traveled from as far away as Boston to attend.
Winners were chosen at random to take home the medical device of their choosing. Among the items given away were a Jazzy and Hoveround power wheelchair, a Pride Go-Go scooter, a walker, shower chair and transport wheelchairs.
Michael Leavitt won a refurbished mobility scooter.
"This scooter is going to help me with walking and doing things that I used to do that I can't do anymore because of my [limited] mobility. It's going to get me shopping with the wife again. I'll be able to move around with the baby now because I can't carry her and walk. This scooter will help me hold her, and I think [the baby] will like it more than I will!"
"It's simply amazing," said owner John Perrotti, "It's grown exponentially since our humble beginnings. This is the first year we've held the giveaway ceremony at our store and the turnout was amazing. The store was packed with people. And it puts a big smile on all of our faces to see people receive medical equipment that they otherwise wouldn't be able to afford."
Formerly known as Power Chair Recyclers of New England, Mobility Equipment Recyclers is New England's largest provider of secondhand durable medical equipment. The company was founded in 2013 by Perotti, a North Kingstown native with the mission of providing high-quality power chairs and other medical equipment at just a fraction of the cost. This mission was born from the belief that living comfortably is something that no single person should do without.
Mobility Equipment Recyclers of New England are experts at salvaging medical equipment and providing it to those in need. All components are reused and diverted from landfills. The company's goals are to simultaneously reduce and divert landfill waste while placing medical equipment in the hands of those who need it most.
Rob Borkowski is a PBN staff writer. Email him at Borkowski@PBN.com.